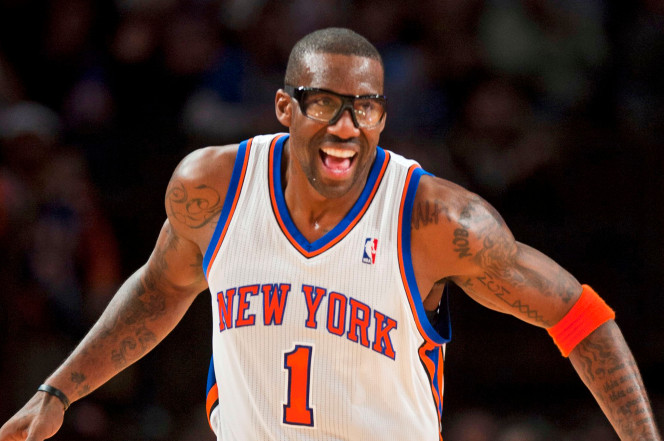 After 14 NBA seasons and a very successful career which included six NBA All-Star appearances and five All-NBA appearances (1x All-NBA 1st Team) Amar'e Stoudemire has decided to hang them up at the age of 33.
Amare Stoudemire retiring. https://t.co/jMy19rR2PW pic.twitter.com/tTmx9thTOW

— HoopsHype (@hoopshype) July 26, 2016
Stoudemire announced his retirement Tuesday and to the surprise of some, signed a one-day contract to retire as a New York Knick. A place where he spent four and a half seasons of his NBA career and the place where his body started to break down badly, robbing him of the second half of his NBA prime.
Stoudemire is best known and should be remembered for being part, along with Steve Nash, of the best pick-and-roll duo the NBA has seen since John Stockton and Karl Malone. He was one of the league's premier big men in the mid-2000s and was the center in the Suns revolutionary seven seconds or less era of basketball that got them tantalizingly close to an NBA title on a few occasions.
He was a five-time NBA All-Star in seven seasons in Phoenix, and was a serious MVP candidate his first season in New York before the slew of knee injuries that hampered him throughout his career started to catch up to him and cause him to lose much of his trademark quickness and explosiveness.
Kind of odd (and hurtful as a Suns fan) that Amar'e wants to be seen as a Knick, but the bright lights and cultural mecca associated with New York did seem to fit his personality and Knicks fans seemed to love him despite his inability to stay on the court and live up to his $100 million contract.
Here are some fun highlights to reminisce on the good old days when he was an athletic freak with stick-um on his hands and the ability to score on a pick-and-roll or pick-and-pop at will or face-up an over matched big man and blow by him to the rim for a vicious slam.
Here is quite possibly his most memorable dunk when he devoured Anthony Tolliver's soul…
Young Amar'e was a monster https://t.co/pXeNmAZ8L8

— Tommy Beer (@TommyBeer) July 26, 2016
It's unfortunate that Amar'e was a shell of his former self his last five seasons but he is still one of the better players of the 2000s and could be in Springfield one day.