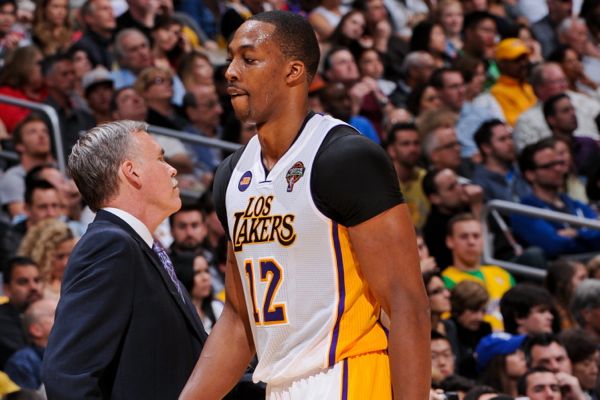 Dwight Howard's departure from the Houston Rockets may not be such a formality after all.
No, really, I mean that. Even though I've wrote extensively on the contrary, and even though I still believe Dwight Howard will leave in free agency, the Rockets don't appear ready to torch this bridge just yet.
Hiring Mike D'Antoni as the next head coach seemed to seal Howard's fate. He wasn't a D'Antoni fan during his one season with the Los Angeles Lakers. Why would that change now?
We don't know. But, apparently, D'Antonio wants it to, per the Houston Chronicle's Jonathan Feigen:
D'Antoni called Dwight Howard "One of the best players in the league. We're going to play a certain way. I hope he wants to play that way."

— Jonathan Feigen (@Jonathan_Feigen) June 1, 2016
ESPN.com's Calvin Watkins added to D'Antoni's surprising sentiments:
The feeling I'm getting is the Rockets are open to Dwight Howard staying if he buys in to the new style of play.

— Calvin Watkins (@calvinwatkins) June 1, 2016
Okay, then.
The most likely scenario still has Howard leaving the Rockets. It doesn't make too much sense for him to return. He was marginalized on offense last year, and that clearly bothered him.
Things won't get better under Mike D'Antoni. He likes his bigs to be primary pick-and-roll threats, not post-up brutes. Howard has always been best suited in this role but continues to gravitate toward back to the basket sets that, given his efficiency in such situations, have no business being a part of his offensive repertoire.
If the Rockets, for some reason, were willing to max out Howard, that changes everything. But that's unlikely. No team should want to max out an over-30 big who doesn't score outside five feet of the cub. And there's always the chance that the Rockets are just trying to save face here.
In the event they really want him back, though, it will be interesting to see if Dwight Howard responds to their overtures. And if he actually comes back, it will be even more interesting to see how him and Magic Mike get along this time around.