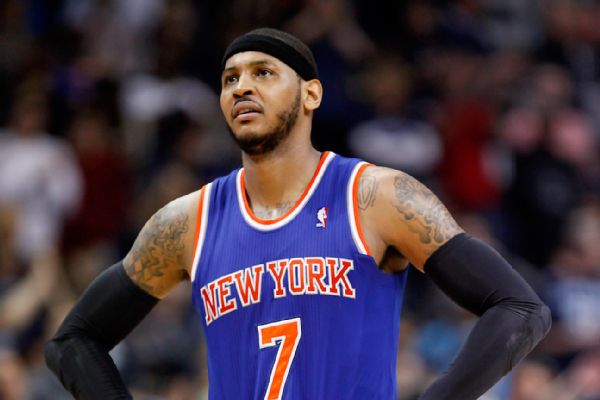 Most—okay, all—New York Knicks fans are excited about team president Phil Jackson's decision to hire Jeff Hornacek as the next head coach.
Know who else is excited, though?
Carmelo Anthony.
The Knicks' All-Star told WNBC-TV's Bruce Beck that he's excited to play under Hornacek because of the faster-paced offense he champions from the sidelines, per ESPN.com's Ian Begley:
Carmelo Anthony tells WNBC-TV's Bruce Beck that he's looking forward to playing up tempo under Jeff Hornacek. "Everybody knows he likes to play up tempo, likes to get out in transition, speed the game up a lot," Anthony said in an interview Saturday. "So from that standpoint I'll definitely be looking forward to that."
Melo's teams have seldom played at fast speeds. High-paced offenses haven't suited his ball-dominant, isolation-heavy style. And on the cusp of turning 32 years old, with the Knicks emerging as one of the NBA's slowest teams under Jackson, now wouldn't seem like a great time for Anthony to start playing such a drastically different style.
Except Melo's own play style is now more conducive to thriving within a higher-octane attack. He has become a better spot-up shooter since joining the Knicks and proved last season that he is willing to move the ball—to collapse defenses with his drives and post-ups before flinging bullets to open teammates.
If he continues to play that way, like a true point forward, he'll be just fine under Hornacek. And the Knicks, as a result, might even be just fine, too.