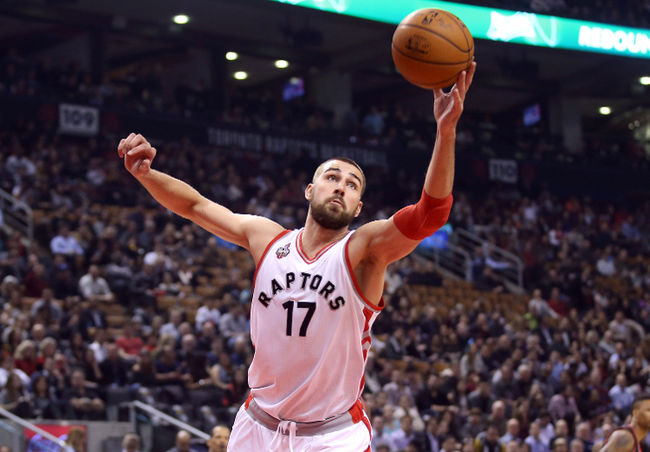 The Raptors played quite possibly their best game of the postseason, at least their best game in weeks Saturday night in Toronto to effectively save their season and give them the opportunity to make this a series in Game 4 Monday night.
They may have just gotten an extra boost in that pursuit today, a 7'0″ 250 lb. boost that is. It appears as though Jonas Valanciunas's ankle has progressed considerably and there is a chance he can suit up for the Raptors in Game 4 tonight.
Jonas Valanciunas (ankle) has been upgraded to a game-time decision for tonight's game vs Cavaliers. pic.twitter.com/Qd3ZOFsFNC

— SportsCenter (@SportsCenter) May 23, 2016
He has been out since injuring the ankle on May 7 in Game 3 of the Raptors-Heat eastern conference semifinal series.
Valanciunas was the Raptors best and most consistent player in the playoffs before his injury and averaged 18 and 12 against the Heat before injuring his ankle.
Bismack Biyombo has been incredible and really seized the moment in Jonas's place, as he has asserted himself as a starting caliber center in the NBA and has averaged 7.3 points and 11.7 rebounds in the eastern conference finals including an incredible 26 rebound performance in Game 3.
Valanciunas's return at the very least could provide an emotional boost for the Raptors, even if he is limited. Raptors Nation is hoping his return may help the Raptors silence the doubters and put the pressure on Cleveland by tying the series 2-2.