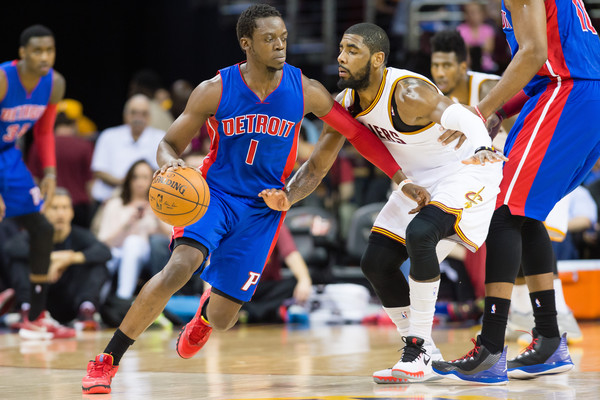 Reggie Jackson learned a thing or 50 from Brandon Jennings.
Most of the NBA's Eastern Conference teams would love to avoid the Cleveland Cavaliers through the first round of the playoffs. It makes advancing through to the next matchup more likely. It's that simple. They may not admit it, but it's definitely a factor.
Reggie Jackson is likely one of those proponents. He's just not admitting it, per the Miami Herald's Ethan J. Skolnick:
Reggie Jackson on Cavs in 1st round: "I like it… I don't want to fight Goliath's homeboy or little brother. I want to fight Goliath."

— Ethan J. Skolnick (@EthanJSkolnick) April 13, 2016
With the Detroit Pistons now locked into eighth place in the Eastern Conference, they're assured a first-round dance with the Cavaliers, who everyone expects to reach another level once the postseason tips off. Still, every player would say this. They're in the NBA for a reason. Guys don't typically shy away from challenges once they've been handed out.
Detroit actually leads the season series over Cleveland, 2-1. The two teams will meet a fourth and final time, on Wednesday, to close out the year. But there truthfully won't be much to glean from the performance, as coaches Stan Van Gundy and Tyronn Lue are bound to rest or limit the minutes of their key players.
And if the Atlanta Hawks taught us anything last year, it's that when it comes to facing the LeBron James-led Cavaliers, the regular season doesn't matter. The Hawks nabbed 60 victories and first place in the Eastern Conference only to be swept by the Cavaliers, who were without Kevin Love, in the Eastern Conference Finals.
In other words: Good luck against Goliath, Jackson. And the rest of Detroit. You're going to need it.