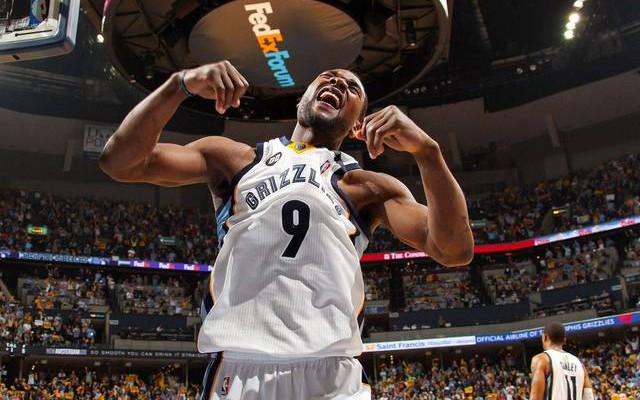 The wounded bears as they should now be referred to (previously known as the Grizzlies) lost a tough game in Los Angeles last night to the Lakers 107-100.
Other than some usual Kobe fadeaways, Lance Stephenson antics and Metta World Peace getting ejected there wasn't too much to find interesting between one of the worst teams in the NBA and a team limping to the finish line.
But there was one stat that will cause you to you to pause and take a double-take: Tony Allen's shooting percentage. Allen shot 12-for-12 from the field and had 27 points in 31 minutes.
This is a pretty incredible feat for anybody, especially a player who shoots 45% from the field and averages 8.1 points per game. Allen has been revered for his hustle and being an elite wing defender, but never for his scoring prowess or ability to be a go to scorer.
Here is Allen's shot chart:
Tony Allen's 12-of-12 for Grizzlies was the most made shots in a perfect shooting performance this season pic.twitter.com/GkBN8pnq4T

— ESPN Stats & Info (@ESPNStatsInfo) March 23, 2016
Here are some highlights of his memorable performance:
Tony Allen can't miss, even if you foul him! He's 9-for-9. #NBARapidReplay @NBAonTNT #MEMatLAL https://t.co/aDU76uwFmF

— NBA (@NBA) March 23, 2016
Tony Allen was the first player to make at least 12 shots in a game without missing since Serge Ibaka on January 31, 2014.
He was also the first player to go at least 12-for-12 in a losing effort which had not been done since 1978 when Kings Billy McKinney played against the Celtics.