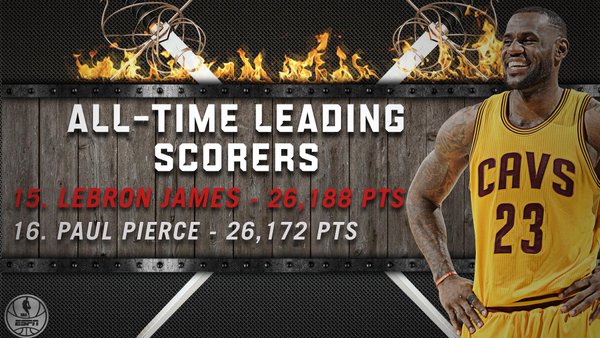 LeBron James just keeps ascending the mountain of accomplishments among other NBA greats and on Wednesday night, he enjoyed another milestone.
LeBron had another masterful performance last night with 29 points, 11 assists and seven rebounds in a 120-111 win over the Lakers. It was Kobe's last game in Cleveland.
In the process, the 31-year-old four-time MVP moved to 15th on the all-time scoring list and now has 26,188 career points.
LeBron has now passed Paul Pierce, his greatest eastern conference rival over the past decade, and barring a catastrophic injury should remain ahead of Pierce for the remainder of his career even though Pierce is still active.
LeBron James has passed Paul Pierce for 15th on the NBA's all-time scoring list tonight pic.twitter.com/HLF95K7ebb

— ESPN Stats & Info (@ESPNStatsInfo) February 11, 2016
Here is a chart breaking down the top 21 scorers in NBA history after last night's games: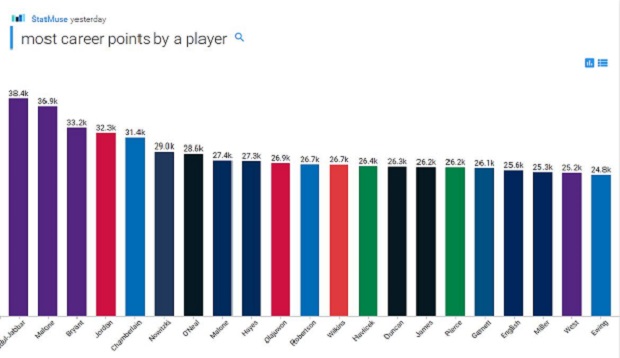 If you do the math with 30 games left in the current season, should LeBron average 25 points per game and play all 30 remaining games he would be able to score 750 more points this season alone. This would move him up to 11th or 12th depending on how Tim Duncan fares the rest of the season, he is currently 14th, and put him a mere 10 points behind Hakeem Olajuwon who is currently 10th.
LeBron should play another six to eight seasons and if he can score 20 points per game and play 70 games per season for the next six years he can move up all the way to third on the list. If he keeps that pace for eight more seasons he could move up to number two on the all-time scoring list and be in range to challenge Kareem Abdul-Jabbar for first all-time.
LeBron was also ranked as the third greatest player of all-time according to ESPN's NBA Rank list on Wednesday.