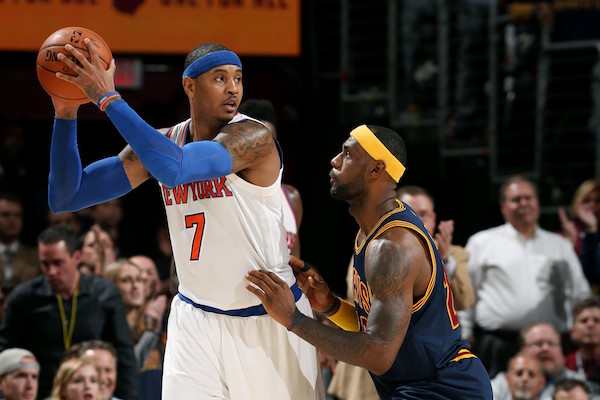 This update on the friendships shared between people who are much richer than you is brought to us by LeBron James.
Ahead of the Cleveland Cavaliers' 96-86 victory over the New York Knicks on Wednesday night, a game that was far closer than the score reflects, Carmelo Anthony and LeBron were naturally asked about each other. That's what happens every time they face off, every time they're in the same vicinity. They were drafted in the same year within two spots of each other, and until recently, say about the last four years, there were still those willing to make comparisons between the two. Indeed, LeBron, though not so much over the last two seasons, has become the gauge by which people measure Melo's shortcomings.
These incessant comparisons, now mostly dead, haven't stopped the two from developing a friendship. To the contrary, their bond is strong, as both made clear prior to Wednesday night's tipoff, per Fox Sports Ohio:
.@KingJames on friendship with @carmeloanthony "We have a brotherhood, we talk about everything" https://t.co/TZB0XjPaF2

— FOX Sports Ohio (@FOXSportsOH) November 5, 2015
"He brings the best out of me," Melo says in the above video. "And I bring the best out of him."
"We talk about everything," LeBron said. "Myself, D-Wade and CP (Chris Paul), we have a brotherhood, we talk about everything, and basketball is one of those things. But what we talk about is, uh…classified."
Darn. So I guess that means we'll never know what LeBron, Melo and crew talked about during their banana boat excursion over the summer. What a shame.
Some don't respect these types of friendships. Ten years ago, competitors were supposed to hate each other, and they mostly did. That still happens nowadays from time to time, but the beef that exists between the Los Angeles Clippers and Golden State Warriors is the extent of the NBA's community of dislike.
Almost everyone knows each other now, and social media, along with endorsements that incorporate multiple players from multiple teams, has made it easier for players to connect on a level above basketball. And, you know, humans forging relationships, creating bonds, should never be viewed as a bad thing.
Life extends beyond the hardwood, and it's good that the NBA's community isn't filled with just a bunch of competitive millionaire's who carry on-court grudges and rivalries into regular society. That would actually be a bad thing.