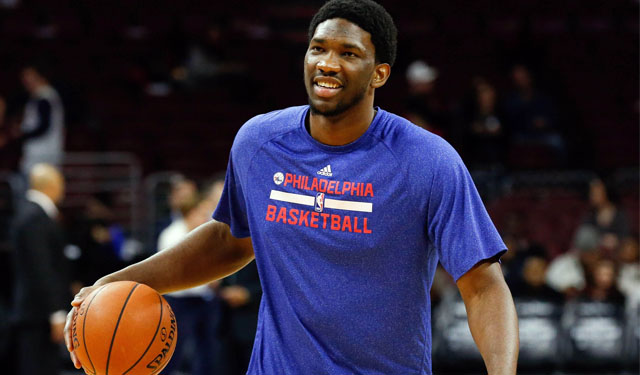 Dear Philly,
I appreciate the out-of-the-box thinking that you had with Joel Embiid. I think it's lovely that you saw athletic potential in this young man, and decided to bring him over to the US to play basketball. I like that, I really do. But he's failed in his capacity as a player in the National Basketball Association.
He may have looked good in high school, but his numbers weren't outstanding. Once again, he may have looked good in college, but his numbers weren't outstanding. Without having seeing him play, I cannot begin to fathom how this kid went 3rd in the draft, and was billed as the next Hakeem Olajuwon. Having seen him play, though, he was a talented but not outstanding centre who lacked range and needed to build on his frame. What's the upside? He gets bumped about down low and if he ventures more than six feet from the hoop, he's utterly useless on both sides of the ball. In a modern NBA in which the crux of the offensive sets are about ball spacing, I cannot understand why anyone would want a traditional center that lacked the body to perform.
Next, is his woeful health. He had stress fractures in his back during the NCAA tournament, broke a navicular bone in his right foot and in doing so missed the season, and then needed another bout of surgery on it, causing him to miss the 2015-16 season. His prime years of development have been taken away from injury, and then what? How can you possibly have a 7 foot tall, 250lb guy who's body can't even stand the test of carrying his frame? And on top of that, you expect him to play in the NBA, and at a Hakeem Olajuwon level? No way is that happening, and you're kidding yourselves if you think otherwise.
If he was a next-generation superstar prospect, it'd be forgivable. But at the end of the day, how many 7 footers have we seen recover from chronic foot injuries and become absolute superstars? I can't remember any. The issue in Philadelphia is that he's not even close to a next gen superstar. He's slightly above-average at best.
You prepared for life past Embiid the second you drafted Jahlil Okafor, a traditional centre like Embiid, but who was healthy, and had an NBA-ready body and ability. Now, you have to commit to it, and decide what you're going to do about this young man. You're trying to rebuild, and keeping him on a roster spot for the sake of a dimming dream of superstardom, isn't the way to go about it.
Drop him, for the good of your rebuild.