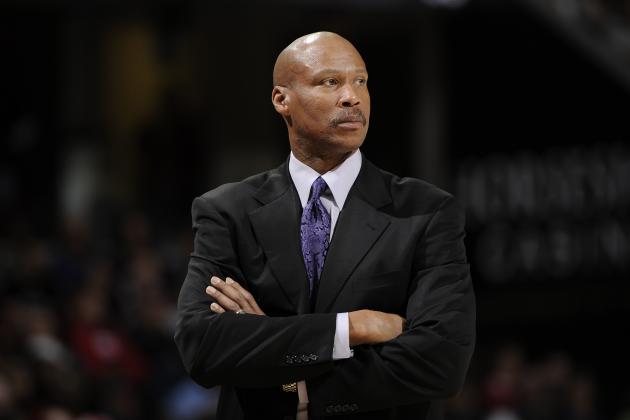 After a poor 2-9 start to the season, including 0-6 against Western Conference opponents, the Lakers aren't exactly looking like championship contenders. It is common in the NBA to fire coaches after poor starts, and not necessarily give them the time of day in a cutthroat corporate-driven league where money is king, and winning begets money. The Houston Rockets earlier this week were so harsh as to fire Kevin McHale after a 5-7 start to the season, after a 50+ win season last year, in which they went to the Western Conference Finals.
Byron Scott, however, is in a different pickle altogether. He's not at the helm of what should be a contender with Harden and Howard at the core. He has a young group of kids and unknowns, dragged down by Kobe Bryant's incessant ego popping up at every inconvenient turn. Mind you, some of these are bright sparks – Julius Randle is the future of the NBA, D'Angelo Russell definitely has ability, even if he hasn't shown it this year, and Jordan Clarkson thoroughly deserved All-Rookie First Team honours.
The Lakers aren't used to losing; as one of the premiere cornerstone franchises in the NBA, and possibly the strongest brand in basketball, any rebuilding process needs to be done properly, lest they do a shoddy job and end up in the NBA's no-man's land, just missing out on playoffs and also at the chance for a decent lottery pick.
As such, there could very well be the temptation to fire Byron Scott, as a coach that's underperforming. I say – resist that temptation. Byron Scott is one of the only coaches that knows how to manage a personality like Kobe, and at the same time has done an admirable job of developing the young talents that the Lakers have on their roster. As Randle, Russell and Clarkson further gain experience in the NBA, you'll start to see the Lakers win numbers rise. As that happens, the lure of free agency will again become strong in the City of Angels; being a big market alone is no longer attractive to prospective free agents, as the new collective bargaining agreement and TV rights deal means big money can be had anywhere. For Pete's sakes, Tristan Thompson of all people landed an $82 million contract in Cleveland!
Winning has once again become a priority for players looking to make Los Angeles their home, and as such, the Lakers need to allow Byron Scott to start making this Lakers team look somewhat respectable in order for free agents to see what can be done in LA. Should the Lakers fire Byron Scott hastily, like the Rockets did with Kevin McHale, it will completely set back the rebuilding process that Los Angeles has spent so long working through.