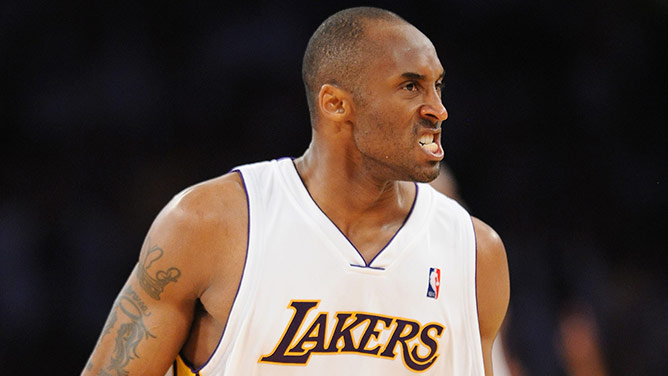 Kobe Bryant is not universally loved.
We've known this, of course, for a while. His personality can be tough to like, even difficult to overlook. He's made a name for himself over the last 20 years as a psychopathic competitor who doesn't have time to be bothered with normal shit, such as deep-seated relationships with his teammates. That unforgiving persona has perhaps been exaggerated over the years, and it has most definitely started ebbing into non-existence through these last few seasons, as Kobe as aged and become more open and welcoming of the outside world, but it's still a thing.
Point being: Kobe isn't Tim Duncan. He isn't someone looked upon favorably by everyone, especially now, as he struggles to regain form at the age of 37, and especially by certain NBA executives, who don't think the Los Angeles Lakers can truly or honestly rebuild with him still in the picture.
That was the prevailing theme from the beginning of Baxter Holmes' recent piece, the first in a series on Los Angeles' rebuild for ESPN.com. Most of the executives he spoke do not, at this time, view Kobe very fondly:
Of the 24 league insiders — team executives, agents, scouts, etc. — ESPN spoke with for this story, only one said the Lakers should definitely bring Kobe back if he decides to extend his career past his current contract.

Thirteen said the Lakers must move on from Bryant regardless. The rest said Bryant's health this season will dictate how he and the Lakers should approach his future.

If Bryant remains healthy? Then, the insiders said, the Lakers should dream up offers, light on cash and playing time and heavy on mentoring, designed to push Kobe out without looking like it.

However, there was considerable skepticism among those interviewed that the Lakers would cut ties with Bryant after next season or in the years to come for various reasons: financial, fear of backlash from fans, or simply that he holds too much power over the organization.

"They've created a monster there," one executive said, "and it's hard to get out of it until he actually goes away."
To refer to Kobe as a "monster" feels forced. There's no doubt that he has been stubborn in the past, but his presence hasn't incited this hasty retooling movement in which the Lakers are offering long-term contracts to average and below-average players, just because it might help them drum up their win total as Kobe's title window fades into nothingness.
Indeed, Los Angeles has done the opposite. The Lou Williams contract from this summer and the Nick Young contract from last summer remain weird, but ever since the Lakers lost Dwight Howard to the Houston Rockets, they've preserved cap space with the hope of striking gold in free agency. And while they've struck in each of the last two offseasons, they've yet to severely compromise this flexibility, suggesting they're more committed to the future than Kobe.
There are other things to consider, such as how head coach Byron Scott develops the team's youngsters. And there's something to be said about Kobe's fast-deteriorating twilight and notoriously demanding attitude scaring off the very free agents the Lakers need to complete their rebuild.
But is he actually a monster, or are the Lakers more at fault because they haven't wanted to completely, truly, wholly usher in the next era of basketball so long as they can, to some degree, cling to a part of their storied past?