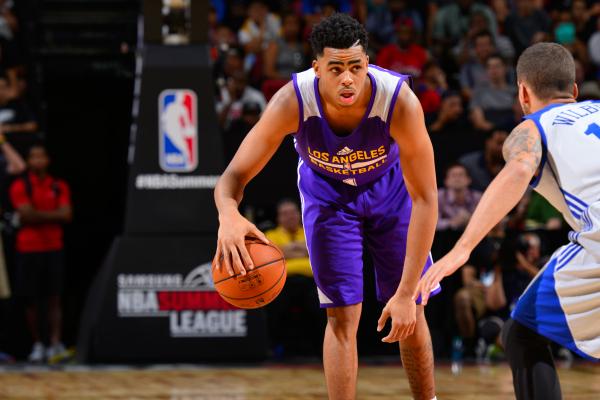 Remember before, when we decided Pat Riley was an optimist after he called the Miami Heat a championship team?
Well, Los Angeles Lakers rookie D'Angelo Russell has his level glass half full-ness beat.
During an interview with Alex Kennedy of Basketball Insiders, the dual guard essentially guaranteed that the Lakers would make the playoffs next season, saying:
"Expectations are high," Russell says, "but this Lakers squad will most definitely be a playoff team."
Sounds like Kobe Bryant got to him. He used to say what comes off as deluded crap like that all the time, believing that he alone could carry the Lakers to the postseason.
Something tells me Russell's, um, prediction isn't coming from the same place. This is a standard batch of optimism wrapped in a standard response encapsulating a standard rookie mindset.
My point: What else was Russell supposed to say? If he was asked about expectations, or about whether the Lakers could make a playoff push, or about how good they could be, this is pretty much what he has to say. Like, he can't just unload on a team he hasn't even played with yet.
"Us? Make the playoffs next season? LOLOLOLOLOL. Kobe is like a million years old dude. Our defense is gonna suck, too. And is there really a puncher's chance in hell of me, Lou Will, Swaggy P, Kobe and J-Clark coexisting on offense with only one ball to spread around. Playoffs? Nah. We'll be lucky to match the 21 wins that rag tag tire fire amassed last year.
Yeah, he can't say that. So instead he said this, simply and bluntly. Does he actually believe it? Who knows. He's young. He hasn't yet been hardened by certain harsh NBA realities. And while I hate to be a killjoy, assuming Russell truly believes in the playoff goal he's slinging, the Lakers won't even sniff the postseason.
If everyone, specifically Kobe and Julius Randle, stay healthy, the Lakers have a real chance at fielding an entertaining above-average offense. But that's about it. Even with Roy Hibbert there to protect the rim, the defense should still suck, and there isn't a best-case scenario in which the Lakers keep pace with the West's vast array of legitimate contenders and playoff locks.
Golden State Warriors. Houston Rockets. Los Angeles Clippers. Memphis Grizzlies. San Antonio Spurs. New Orleans Pelicans. Oklahoma City Thunder. Those teams are all assured of a playoff berth, leaving one spot for the eight remaining teams. And of those eight teams, the Lakers, at best, only look better than three: Portland Trail Blazers, Minnesota Timberwolves and Denver Nuggets. That's it, and even that might be on the overly optimistic side.
So no, the Lakers aren't making the playoffs next season.
Sorry, Mr. Russell.