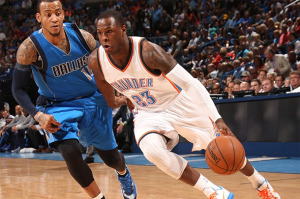 The Oklahoma City Thunder dropped a 135-131 thriller to the Dallas Mavericks on Wednesday night, but Russell Westbrook and Co. matched a unique set of NBA records in the process.
Although the following certainly does not lessen the disappointment of a loss, looking back at the game from a statistical perspective is intriguing.
Dallas coach Rick Carlisle reflected on what was a wild outing, as noted by Bryan Gutierrez of Mavs Outsider.
It was a great basketball game. Every once in a while you stand over there and say, 'this is an unbelievable game to be a part of,' and it was. The extreme momentum swings back and forth, the shot-making was breathtaking."
Oklahoma City has been limping along without reigning MVP Kevin Durant and power forward Serge Ibaka, which has left the offense short-handed, to say the least.
Wednesday night, however, the Thunder received tremendous "shot-making" contributions from a trio of players. Backup shooting guard Anthony Morrow poured in a game-high 32 points, Westbrook netted 31 and Enes Kanter tallied 30.
According to CSN Philly, Oklahoma City became the first team in three seasons to have three players score at least 30 points.
The last squad to accomplish it? A certain triad of Durant, Westbrook and James Harden all reached the 30-point mark for a certain Thunder roster in March 2012.
But the weirdness didn't stop there, per CSN Philly:
The Thunder became the first team to lose with three players scoring at least 30 since Portland lost to Phoenix in four overtimes in 1997, and the first to lose in regulation since Portland went down to Seattle on in 1995."
OKC's unfortunate result proved the obvious fact that collective defense matters, considering the Mavericks shot a completely absurd 61.5 percent from the field and scored 135 points—despite only burying four triples.
Nevertheless, though basketball is and forever will be a team-oriented game, individual marks are still impressive, even in a loss.
In addition to the 31 points, Westbrook racked up 11 rebounds and 11 assists, amassing his 10th triple-double of the season and eighth since the All-Star break.
According to the Basketball-Reference.com database, only Magic Johnson, Fat Lever, Michael Jordan, Jason Kidd and Larry Bird have reached single-season double-digit triple-doubles since 1985-86.
Again, the personal achievement isn't a consolation to Westbrook, nor is an impressive point total from three players on a team that's so desperately clinging to the final playoff spot in the Western Conference.
But these rare feats don't happen often, and they're worth taking time to appreciate.
In addition to his work for The Hoop Doctors, David Kenyon contributes to Bleacher Report and Sportsnaut. You can follow him on Twitter: @Kenyon19_BR.