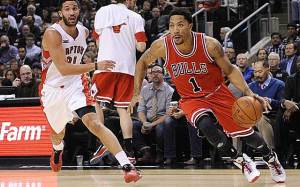 The idea that the Chicago Bulls would trade Derrick Rose seemed farfetched not three years ago.
Now it's just another idea.
While speaking with Bleacher Report, Joe Cowley of the Chicago Sun-Times alleged that the Bulls would "love" to trade their injury-prone point guard.
Not would consider trading, or explore trading, or are grappling over the idea of trading. Love.
Though Cowley goes on to cite a number of reasons why they won't, this isn't crazy. It's only crazy insofar as you expect it will happen.
Rose is owed more than $41.4 million over the next two seasons and there isn't a team in the NBA that would roll the dice on him and that commitment right now. The point guard has appeared in just 56 games since earning MVP honors for the 2010-11 campaign, suffering three major injuries that have all but derailed his career.
Most recently, he had surgery to repair a torn right meniscus. But while he's expected to return before the playoffs, he's not the Derrick Rose of old. Even before his latest setback, he was hitting on a paltry 40.7 percent of his field-goal attempts, too many of which were coming from downtown, where he was shooting 28.7 percent—a mark that falls below his unimpressive career 30.6 percent clip. His PER is barely above the league average of 15 (16), and the Bulls' offense is only slightly better with him on the floor.
At only 26, the hope, of course, is that Rose will inevitably return to form. And because he's still young enough to engender such hope, there will be those who wouldn't want the Bulls to trade him even if they could. We're talking about a potential superstar here, and those don't come around very often.
Still, for all the work Rose puts in, and for all the hope that exists, he's not even the most important player on his own team anymore. That honor belongs to Jimmy Butler, the Bulls' new franchise cornerstone.
There's no use pretending none of this is real. Through no fault of his own, Rose can no longer have the benefit of the doubt. His body has betrayed him too many times. To that end, yes, it's reached a point where the Bulls should at least consider moving him if they can, if not pull the trigger without question.
But, again, that's neither here nor there at the moment. Unless Rose returns next season, stays healthy and dominates, he'll never be a trade asset.
For now, he's an injury-prone point man fighting to preserve a superstar label that's drifting further and further away and threatening to render him a cautionary tale without a happy ending.