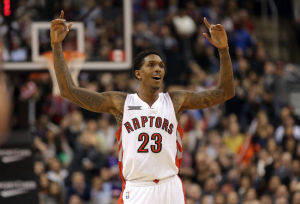 Needless to say, the Toronto Raptors wouldn't be where they are right now if not for the contributions of their guard Lou Williams, who has been recently crowned as the NBA's Sixth Man of the Year.
In a total of 80 games played in the regular season, Williams finished with a career average of 15.5 points, along with 1.9 rebounds, 2.1 assists, and a steal per contest, helping the Raptors win the Atlantic division title and end the season with a franchise record of 49 wins. Their record gives them a fourth place finish in the eastern conference. Plus, he is the first ever Raptors player to earn the award.
Once their season ends, the 6-foot-1 guard will hit free agency this summer, but it looks like the Raptors won't have to worry too much about him leaving, as Williams plans to remain with the team, according to Josh Lewenberg of TSN Sports:
Lou on re-signing with Raptors: "That would be ideal for me…. The identity that this team & this town has, I really wanna be a part of it"

— Josh Lewenberg (@JLew1050) April 20, 2015
Williams' undeniably had his best season in the league with the Raptors this season, making his plan to re-sign with them this summer not much of a surprise for many. His ability to provide a huge boost off the bench and be able to deliver in the clutch has earned him the trust of his coach, teammates, and the fans as well.
And that said, come this summer, he's going to rightfully get paid, especially if the Raptors go deeper into the playoffs or maybe even come out of the east. Time will tell.
Benjamin Felix Santos is an aspiring NBA writer, who bleeds the purple and gold. His love and passion for the game will never die.
Follow @biefsantos