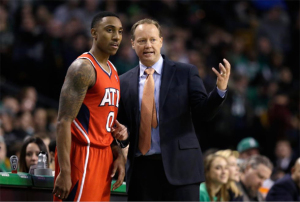 Atlanta Hawks head coach, Mike Budenholzer has been rewarded by the league for his tremendous coaching success this season by being named as the NBA's Coach of the Year for the 2015 season.
At second place was the Warriors' head coach, Steve Kerr, who trailed Budenholzer by just 42 points.
While Jason Kidd, finished at third place in his first year with the sixth-seeded Bucks.
In the beginning of the season, no one really expected the Hawks to come out on top of the Eastern Conference and manage to notch a 60-win season, which is most definitely one of the biggest surprises of the year.
THIS JUST IN: Atlanta's Mike Budenholzer named NBA Coach of the Year. Steve Kerr finishes 2nd in voting. pic.twitter.com/8ABL2jKRzM

— SportsCenter (@SportsCenter) April 21, 2015
In only his second year as the Hawks' head coach, Budenholzer has accumulated a very respectable 98-66 win-loss record in just that small amount of time.
And also, he's become the first Hawks coach to win the award since Lenny Wilkins in 1994.
Benjamin Felix Santos is an aspiring NBA writer, who bleeds the purple and gold. His love and passion for the game will never die.
Follow @biefsantos