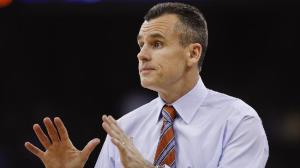 NBA franchises have seldom entered the college coaching ranks in search of a new leader for their team. In fact, the latest trend is former players who have no experience roaming the sideline.
The Boston Celtics are an exception, having snatched Brad Stevens away from mid-major powerhouse Butler University two years ago, but that's about it.
According to ESPN's Marc Stein, however, Billy Donovan might change that this offseason.
There is a growing sense among NBA executives that Florida Gators coach Billy Donovan is looking to making the jump to the NBA more than ever before, according to league sources.

Sources told ESPN.com that Donovan is poised to draw interest from multiple NBA teams this offseason and is increasingly prepared to listen to those pitches after the Gators endured a 16-17 season in which they failed to qualify for postseason play for just the second time in Donovan's nearly two decades in Gainesville.

Donovan recently agreed to a one-year contract extension to stay with the Gators through the 2020 season, according to multiple media reports, but the contract contains a buyout for a mere $500,000 if an NBA opportunity arises.

The extension is not regarded as an impediment to Donovan's pursuit of NBA jobs if he wishes."
This wouldn't be Donovan's first foray into the professional ranks. Back in 2007, he accepted an offer to coach the Orlando Magic but swiftly returned to Florida. Donovan and the Magic agreed to a five-year non-compete clause, meaning he couldn't bolt for the NBA during that period.
But that stipulation has expired, and the Gators just sustained their first losing season since 1997-98—Donovan's second season at the university—so it wouldn't be a terrible time for him to seek another position.
Stein reports that the Magic and Denver Nuggets are Donovan high on their respective lists, and postseason-contending teams looking to make a change after their campaign ends will also join the pursuit.
If a playoff team indeed calls Donovan, that currently unknown job may be more appealing. But as it stands, Orlando is again an intriguing option for the Florida coach.
Nikola Vucevic, Victor Oladipo and Elfrid Payton form a solid core, and the Magic are poised to have a top-5 pick in the 2015 NBA Draft. Plus, in a weak Eastern Conference, Donovan could turn Orlando into a playoff contender immediately.
From an outside perspective, it's a perfect time to see what Donovan can accomplish in the NBA, and the Magic would be smart to give him a shot.
After spending two seasons at Marshall University and compiling a 35-20 record, Donovan headed to Florida and built a powerhouse. He's racked up a 467-186 mark in Gainesville, winning NCAA championships in the 2005-06 and 2006-07 campaigns.
Under Donovan, the Gators have won the SEC regular season crown eight times and the SEC tournament on four occasions. Additionally, Florida has tallied 14 appearances in the NCAA tournament, including reaching the Sweet 16 eight times.
In addition to his work for The Hoop Doctors, David Kenyon contributes to Bleacher Report and Sportsnaut. You can follow him on Twitter: @Kenyon19_BR.