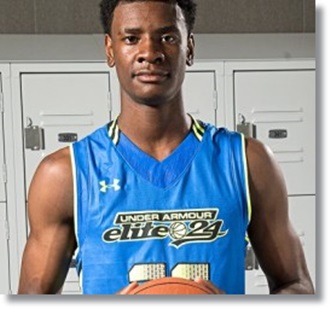 In the modern age of the internet and Twitter, college basketball scouts have a major edge when it comes to recruiting some of today's elite 5 star recruits.
Virtually every week, another of the myriad of the nation's top high school players puts out another mixtape filled with dunks, highlight reel passes, and above the rim blocks.
These videos have almost become customary, as a quick internet search reveals that even the most average of HS players are capable of filming themselves, getting the best of some poor opponent at a Summer scrimmage.
Every hoops site across the globe is in search for "The next big thing", hoping to find the next Lebron James or John Wall in the form of some unreal highlight video.
We here at THD get tons of submissions from family, friends, and coaches trying to promote the many talents of the next star hoops prodigy in waiting, but to be honest, we can't do pieces on them all.
That's why when we stumbled across the newest mixtape from a talent like #1 ranked high school junior Josh Jackson, we felt it is was necessary to show it to the masses.
Jackson is a 6'7 shooting guard/small forward hailing from Detroit, Michigan. He moved to the West Coast prior to this season to play for Prolific Prep in Cali and already has numerous major offers from elite programs like Arizona, Ohio State, Florida State, Memphis, and Kansas.
Earlier this month he was named a 3rd Team All American, played in last Summer's Elite 24 Game, and should be a shoo-in for next year's McDonald's All American and Jordan Brand Classic Games.
Big things are on the horizon for Jackson, check out his newest mixtape…
Allen Moll has been a lifelong NBA and NCAA College Basketball fan who watches and studies games religiously, and coaches youth basketball in his native Lehigh Valley region of Pennsylvania. Allen has also provided content to Bleacherreport.com, Upperdeckblog.com, Cleveland.com, CSN Philly.com, Buckets Magazine, Balltribe.com, in addition to being a tenured NBA and NCAA columnist for TheHoopDoctors.com.