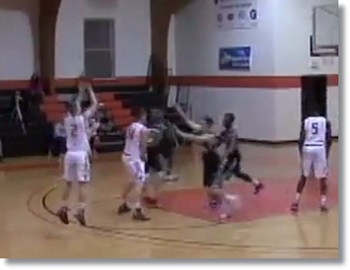 The basketball World just saw an impressive 3 point shooting performance by Stephen Curry on All Star weekend, as Curry scored an incredible 27 points in the Final round, to take home the 3 Point Shootout Saturday night.
Curry's performance has furthered the debate as to if he will become the NBA's best shooter of all time, surpassing even the exploits of Ray Allen and Reggie Miller.
There also are some elite high school players on the horizon that also have potential to be 3 point marksmen at any level like HS senior and Duke commit Luke Kennard, who recently passed Lebron James in Ohio state scoring.
Another stud high school player, 5'11 guard Scott Meedith, recently had an unbelievable shooting performance while playing for national powerhouse Hargrave Military Academy in Virginia, scoring a new school record 55 points.
Even more impressive than his point total has to be his career night from behind the arc, as he connected on an insane 18 of 24 three point shots, proving to be "In the Zone."
Meredith stars alongside 4 fellow highly touted prospects at Hargrave, all committed to Division I schools, as the team has sprinted out to a 29-5 start to the season.  The school has also featured NBA stars like David West, Jordan Crawford, and Josh Howard in the past.
Meredith remains uncommitted to this point but will surely be getting a few more recruiting letters following his record setting scoring outburst…
Please enable Javascript to watch this video
Allen Moll has been a lifelong NBA and NCAA College Basketball fan who watches and studies games religiously, and coaches youth basketball in his native Lehigh Valley region of Pennsylvania. Allen has also provided content to Bleacherreport.com, Upperdeckblog.com, Cleveland.com, CSN Philly.com, Buckets Magazine, in addition to being a tenured NBA and NCAA columnist for TheHoopDoctors.com.