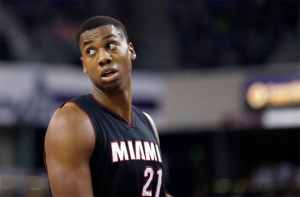 On Sunday night, the Miami Heat were able to defeat the Chicago Bulls to get their 20th win of the season while handing their opponents their 17th loss for the season with a score of 96-84.
However, in a surprising turn of events the Heat's dynamic duo of Wade and Bosh were given a huge boost off the bench, as their rookie center Hassan Whiteside delivered the biggest game of his life with an astounding triple double–14 points, 13 rebounds, and setting a career-high and a franchise record of 12 blocks. Furthermore, the Bulls' Pau Gasol was clearly disrupted because of Whiteside's presence that limited him to just 13 points while nailing only 6 of his 16 field goal attempts, which were below his usual average.
Here are the highlights of Whiteside's dominant defensive performance..
Please enable Javascript to watch this video
The Heat are obviously quite happy right now regarding their acquisition of Whiteside this season, and their franchise's future has become a little bit more intriguing with this kid improving every single game.
Benjamin Felix Santos is currently a senior college student from Manila, PH. An aspiring NBA writer, who bleeds the purple and gold. His love and passion for the game will never die.
Follow @biefsantos