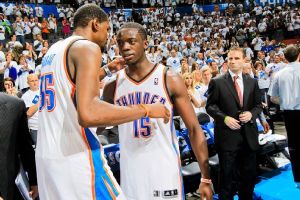 Someone needs to explain the Denver Nuggets to me.
We've already talked about their purported interest in the Brooklyn Nets' Brook Lopez—an injury-prone big man who may help their offense, but not their defense, and one who is overkill considering JaVale McGee, J.J. Hickson and Jusuf Nurkic are on the roster.  Now, they're at it again.
According to the New York Daily News' Frank Isola, the Oklahoma City Thunder nearly moved Reggie Jackson to Denver:
OKC was close to trading Reggie Jackson to Denver, according to a source. He is expected to be moved before the deadline.

— Frank Isola (@FisolaNYDN) January 29, 2015
No surprises here…on the Thunder's part.
Jackson has been a goner since the season began—even before Oklahoma City acquired Dion Waiters. He plays Russell Westbrook's position and is in line for a huge raise during restricted free agency this summer. The Thunder do not sign restricted free agents anymore. They trade them. After re-upping Serge Ibaka, Kevin Durant and Westbrook, the rest of the roster is essentially fillers. Perhaps that will change once Kendrick Perkins' deal comes off the books this summer, but for now, the Thunder are still the Thunder. They traded Jeff Green and traded James Harden. They are going to trade Jackson.
But to Denver? To the Nuggets?
Again, someone needs to explain this to me.
Ty Lawson is already on the Nuggets. While he still ranks as only, like, the 12th- 15th-best at his position, they have the starting spot locked down. Jackson cannot complement Lawson. He's not a spot-up shooter and really cannot play off the ball in any way. That he coexisted with Westbrook—and even Durant—is really a testament to how much defenses worry about those two guys. Lanes open up like crazy off double- and triple-teams, making it easier for Jackson to slink through to the basket and avoid the dreaded catch-and-shoot opportunity.
That wouldn't even be close to the case in Denver. Defenses don't worry about Lawson or anyone else on that team to a similar extent. He would prove to be a rental most likely, because there's no way the Nuggets pay him eight figures annually to struggle beside Lawson.
Renting him is fine, for that matter. So long as the Nuggets are dumping salary in return—say absorbing Perkins' expiring pact while unloading Hickson or McGee—it would make some sense.
Or, actually, there's also this to consider: What if the Nuggets are ready to move on from Lawson? He's a good ball player—has some legal issues—but he's not a transcendent talent in the way of point guards. He plays an incredibly deep position and isn't going to climb the ladder any higher than he already has. While Jackson is something of a long-term mystery, uncertainty sells here. The Nuggets know what they have in Lawson; Jackson's ceiling is ambiguous.
Not to suggest the Nuggets would have sent Lawson to Oklahoma City or even traded him this season. Still, if they're interested—or were interested—in another starting-level point guard, his future, or lack thereof, in Denver is something to question.