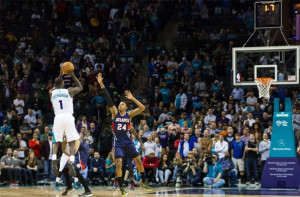 As much as we all know Lance Stephenson for his unorthodox and clown-ish style of play — we witnessed possibly and arguably his best career highlight in the Hornets thrilling 122-119 victory against the visiting Atlanta Hawks last night.
It was a neck-and-neck game throughout, and it stayed that way right to the final buzzer. In fact it required two overtime periods to finally settle the victor. In the second overtime period with exactly 2.7 second remaining, the Hornets had the possession and Stephenson eventually became the man of the hour as he banked in the game-winning shot, which was also his first three-pointer of the season.
Please enable Javascript to watch this video
Maybe Lance should do this more often, rather than flopping and blowing in somebody's ear.
Benjamin Felix Santos is currently a senior college student from Manila, PH. An aspiring NBA writer, who bleeds the purple and gold. His love and passion for the game will never die.
Follow him on twitter: @biefsantos