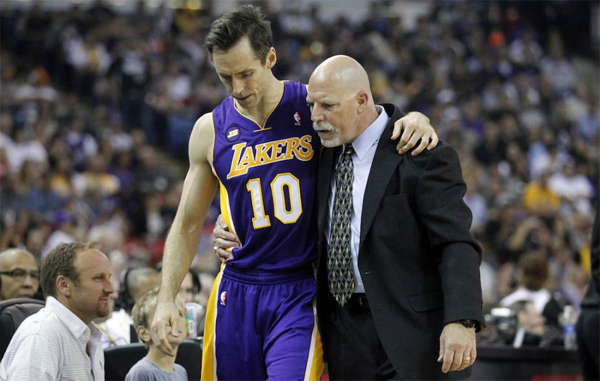 Nash is a 2-time NBA MVP. And he's a point guard. That just doesn't happen. The rate at which this guy has racked up assists, and shot the ball with efficiency from the field, the line, and beyond the arc, is in itself hall of fame worthy.
But that hasn't stopped fans of the LA Lakers from skewering the guy for his lack of court time due to back injuries ever since the first time he was forced to step off the floor in a Lakers game.
I don't know if you've noticed but while dealing with the emotional and physical roller-coaster of his injuries he's been taking the criticism as well as any athlete I've ever seen in the spotlight of the LA lights.
However, after his most recent setback which most believe spell the end of not only this season but also his career in the NBA, the insults and online trolling must be getting to Nash, as he took to his facebook account to set the record straight.
But in classic Nash fashion he does so with class and with tact. And boy is he well written and convincing in his written word. He kicks off his letter with an explanation of his injuries…
I definitely don't want to be a distraction, but I felt it best everyone heard from me in my own words.

I have a ton of miles on my back. Three buldging disks (a tear in one), stenosis of the nerve route and spondylolisthesis. I suffer from sciatica and after games I often can't sit in the car on the drive home, which has made for some interesting rides. Most nights I'm bothered by severe cramping in both calves while I sleep, a result of the same damn nerve routes, and the list goes on somewhat comically. That's what you deserve for playing over 1,300 NBA games. By no means do I tell you this for sympathy – especially since I see these ailments as badges of honor – but maybe I can bring some clarity.
Then it gets interesting when he talks about his work ethic, because coming from Nash it doesn't sound conceited or suspect because the entire basketball community knows it to be true….
I've always been one of the hardest workers in the game and I say that at the risk of what it assumes. The past 2 years I've worked like a dog to not only overcome these setbacks but to find the form that could lift up and inspire the fans in LA as my last chapter. Obviously it's been a disaster on both fronts but I've never worked harder, sacrificed more or faced such a difficult challenge mentally and emotionally.

I understand why some fans are disappointed. I haven't been able to play a lot of games or at the level we all wanted. Unfortunately that's a part of pro sports that happens every year on every team. I wish desperately it was different. I want to play more than anything in the world. I've lost an incredible amount of sleep over this disappointment.
If you'd like to read the entire letter from Nash you can access it here: