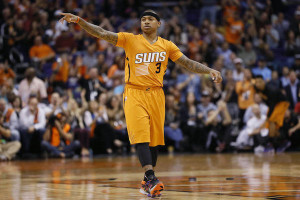 Ah, what could have been.
Isaiah Thomas was apparently a wanted man during the 2014 NBA free-agency period. Well, not by the Kings. But the Lakers and (obviously) the Suns were both interested. And so, too, were the Celtics.
Here's Green Street's Ben Rohrbach with more:
Other than the late addition of Evan Turner at a bargain basement price over the summer, the Celtics came away from NBA free agency empty-handed, but president of basketball operations Danny Ainge made at least one attempt at a big-name player of small stature.

Moments after free agency opened on July 1, Ainge called point guard Isaiah Thomas.

"Danny Ainge was the first person to call me at 12:01 a.m.," Thomas said, "so if that'??s interest, then I guess so."

Thomas actually missed the call, but exchanged messages with Ainge before his agent Andy Miller took over negotiations. So, was the feeling mutual?

"I was interested in whoever was interested in me," Thomas added, "so he was definitely a little interested if he was the first one to call me, but they went their ways and I went mine."
Color me intrigued. The Celtics wound up re-signing Avery Bradley and nabbing Evan Turner. They also still employed Rajon Rondo and drafted Smart. Thomas would have seemed like overkill to anyone outside Phoenix. Neither Bradley nor Turner are point guards, but they are somewhat-proven playmakers—the latter especially. Landing Thomas would have created an undersized logjam.
Signing Thomas also would have meant incessant Rondo rumors. Unless they were planning on running dual-point guard lineups, housing Smart and Rondo and Thomas would have been weird. Perhaps Smart would have been part of some sign-and-trade for Thomas, but still, that's risky. There's no guarantee Rondo would return to Boston after this season. Trading Smart, who at the very least is insurance against Rondo leaving, would have been presumptuous.
On the flip side, too bad this didn't happen. The Celtics' offense has been entertaining this season and ranks among the top-10 in potency. Watching head coach Brad Stevens trying to make sense of his four-headed backcourt monster—Bradley, Thomas, Smart and Rondo—would have been all kinds fun. That quartet may have even fared better than Thomas, Goran Dragic and Eric Bledsoe are faring now. That, admittedly, wouldn't be hard to do at the moment—the Suns' offense is currently a stagnant mess that encourages everyone to create their own shots rather than move the ball—but it's still food for thought.
Yeah, these rumors are somewhat useless now. Thomas is in Phoenix, most likely for the next four years. No point in harping on this.
At the same time, the Celtics' interest could prove noteworthy this summer—or even before then, at the February trade line—when some light is shed on their plans for Rondo. Until such a time when that clarity is provided, though, have fun playing the "What if?" game. It's fast, easy and free. It can also approach reality if you're willing to get creative on NBA 2K15
Dan Favale is a firm believer in the three-pointer as well as the notion that defense doesn't always win championships. His musings can be found at Bleacherreport.com in addition to TheHoopDoctors.com.