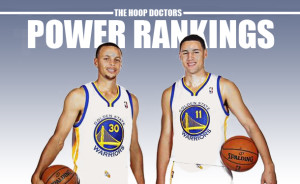 Holy crap, the Warriors are good.
I could stop there, because that's all you need to know. They're taking over the NBA one game at a time, and assuming health, won't be stopping anytime soon.
Nor will I, because you deserve more than some pre-rankings Warriors-loving. So with that in mind, here's a choppy portrait of that the NBA's infrastructure right now: The Warriors are great; the Grizzlies are winning mostly ugly, though sometimes beautifully; the Warriors are everything; the Spurs are starting off slow, but we shouldn't worry because they're the goddamn Spurs; the Warriors are God's best friend; the Cavaliers' offense is starting to come together as their defense continues to unravel; the Warriors are spectacular; the Knick were sent to this Earth to erase huge deficits without actually ever winning; the Warriors are incredible; the Lakers play defense about as well as Nick Young-sized traffic cones; and the Warriors are slowly, surely, masterfully turning the league into their own private stable of offense and defense and wins and ugly Stephen Curry sweaters.
Got all that?
Okay, good.
Now, onto the rankings, which, surprisingly, do not place the Warriors behind the Sixers.
*Welcome back to The Hoop Doctors' PG-13 NBA Power Rankings, where almost anything goes. Language may not be suitable for those reading at work, in which case I recommend you don't read these aloud or you get a new job. Like most PG-13 movies, we'll permit one F-bomb per post. Those devoid of a sense of humor need not proceed.
***For a week by week list of all our NBA Power Rankings this season, please visit this page.
NBA Power Rankings
| | |
| --- | --- |
| 1 | |

Golden State Warriors

This is the most well-balanced team in the league. Defense is elite, offense is getting there. WATCH OUT.

Last Week (3)

| | |
| --- | --- |
| 2 | |

Memphis Grizzlies

Look, the Grizzlies have been good. Great, even. But until they score the basketball consistently, we must have our doubts.

Last Week (2)

| | |
| --- | --- |
| 3 | |

Chicago Bulls

Easy schedules are the best-est. Still, the Bulls are scoring the basketball. No, this is not a drill. They're scoring. And Jimmy Butler looks fantastic.

Last Week (6)

| | |
| --- | --- |
| 4 | |

Houston Rockets

Tough break for the Rockets—you know, running headfirst into the Grizzlies' wrecking ball.

Last Week (1)

| | |
| --- | --- |
| 5 | |

Toronto Raptors

Toronto is probably the second-most balanced team in the league. It's the Bulls and Cavaliers, then everyone else in the Eastern Conference, but the Raptors have a chance to lord over the Everyone Elses.

Last Week (7)

| | |
| --- | --- |
| 6 | |

Portland Trail Blazers

Defense and offense? Well, shit, it must still be early. Oh, yeah, that's right. It is early, giving the Blazers more than enough time to make us hate ourselves for believing in them.

Last Week (10)

| | |
| --- | --- |
| 7 | |

Dallas Mavericks

Best offense in NBA history? Perhaps. At some point, though, the Mavericks will need to acknowledge there are two sides to every court.

Last Week (9)

| | |
| --- | --- |
| 8 | |

San Antonio Spurs

Chiiiiiiiiiiiiiill. The Spurs and their top-five defense are going to be fine.

Last Week (4)

| | |
| --- | --- |
| 9 | |

Washington Wizards

Bradley Beal's return better help this team score the basketball. The Wizards have enough firepower to render their ordinary offense embarrassing.

Last Week (5)

| | |
| --- | --- |
| 10 | |

Cleveland Cavaliers

Because, LeBron.

Last Week (8)

| | |
| --- | --- |
| 11 | |

New Orleans Pelicans

It's happening: The Pelicans are contending for a playoff spot, proving once and for all that the not-of-this-world Anthony Davis is actually the not-of-this-galaxy-or-universe-or-existence Anthony Davis.

Last Week (11)

| | |
| --- | --- |
| 12 | |

Miami Heat

And just like that, Dwyane Wade reminds us how important he is to Miami's offense…by not playing.

Last Week (5)

| | |
| --- | --- |
| 13 | |

Sacramento Kings

I mean, what else do you want from me? Stats say the Kings shouldn't be over .500, yet they're over .500. Deal with it for now, because this is going to change. It has to change. Maybe. I think.

Last Week (15)

| | |
| --- | --- |
| 14 | |

Phoenix Suns

Triple point guard lineups don't feel as fun anymore. Phoenix's offense has become a stagnant soul-sucking substance searching streets for lives to ruin. (Say that 10x fast and I'll buy you your very own Anthony Tolliver Fathead.)

Last Week (13)

| | |
| --- | --- |
| 15 | |

Los Angeles Clippers

Last year the Clippers played defense; this year they don't. Their offense is also a middling mess light on shooters and heavy on Chris Paul passing up shots like they're herpes-laced cocktails.

Last Week (12)

| | |
| --- | --- |
| 16 | |

Milwaukee Bucks

[Insert something about the Bucks not being able to stay above .500 only to realize they play in the Eastern Conference where bad teams not named the Sixers are always on the precipice of embarrassing greatness here.]

Last Week (19)

| | |
| --- | --- |
| 17 | |

Utah Jazz

Offensively, this team is fun. Defensively, they're cracked-out party poopers.

Last Week (20)

| | |
| --- | --- |
| 18 | |

Orlando Magic

If effort translated into wins, the Magic would be undefeated.

Last Week (23)

| | |
| --- | --- |
| 19 | |

Atlanta Hawks

Can't help but be disappointed in the Hawks. This was supposed to be the year they were something other than mediocre. Or was that next year?

Last Week (18)

| | |
| --- | --- |
| 20 | |

Brooklyn Nets

*Nets win four of first six games*

*Joe Johnson, isolation specialist, accuses teammates of playing selfishly*

*Nets embark on losing streak*

End scene.

Last Week (16)

| | |
| --- | --- |
| 21 | |

Boston Celtics

Raise your hand if you expected the Celtics' offense to rank in the top 10? Those of you with your hands up, put them down. You're diarrhea-guzzling liars.

Last Week (17)

| | |
| --- | --- |
| 22 | |

Indiana Pacers

Frank Vogel still has the Pacers playing defense, but all I can focus on is Chris Copeland leading the team in scoring(!!!!!).

Last Week (29)

| | |
| --- | --- |
| 23 | |

Charlotte Hornets

Average defense. Terrible offense. Plummeting stock. So much for making the leap.

Last Week (20)

| | |
| --- | --- |
| 24 | |

Oklahoma City Thunder

Losing Kevin Durant and Russell Westbrook has really exposed Scott Brooks' uninventive play-calling. He went from having two plays—Iso Westbrook and Iso Durant—to having none.

Last Week (24)

| | |
| --- | --- |
| 25 | |

Denver Nuggets

Denver is playing awful, uninspired basketball. On the bright side, the Central Division is their bitch.

Last Week (27)

| | |
| --- | --- |
| 26 | |

New York Knicks

FUUUUUUUUK.

Last Week (25)

| | |
| --- | --- |
| 27 | |

Los Angeles Lakers

Shot chart prediction for rest of the Lakers' season: Kobe, Kobe, Kobe, Kobe, Kobe, Kobe, Kobe, Kobe.

Last Week (26)

| | |
| --- | --- |
| 28 | |

Detroit Pistons

Stan Van Gundy's attempt to save the Pistons looks more like Stan Van Gundy's danglers being squeezed into a functioning exhaust pipe.

Last Week (28)

| | |
| --- | --- |
| 29 | |

Minnesota Timberwolves

#MissYouRicky

Last Week (22)

| | |
| --- | --- |
| 30 | |

Philadelphia 76ers

"Lose one game, lose 10 games, LOSE ALL THE GAMES." -Sam Hinkie, before every game ever.

Last Week (30)