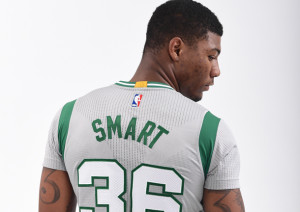 adidas and the Boston Celtics announced the unveiling of the "Parquet Pride" home alternate uniform and merchandise collection, which celebrates great moments in Celtics history from the famed Parquet Floor. The year-long program will be the centerpiece to the partnership between adidas and the Celtics which is entering its eighth season.
The campaign tipped off tonight with an exclusive event held at the Ritz-Carlton in Boston. On hand to unveil the Parquet Pride jersey and game shorts were Boston Celtics guards and adidas athletes Avery Bradley and Marcus Smart, Celtics Managing Partner, Governor and CEO Wyc Grousbeck, Celtics Team President Rich Gotham, adidas General Manager of Global Basketball, Chris Grancio, and other members of the Celtics and adidas families.
The Parquet Pride jersey features a green and white Celtics wordmark on a grey background with parquet-inspired piping down the sides. The shorts also feature the parquet piping along with the Celtics new Lucky alternate logo on the waistband. Consistent with the other home and road jerseys, a gold patch showcasing the Larry O'Brien championship trophy, as well as "17x" which represents the franchise's league-record 17 titles, is featured on the back collar.
"We are proud to partner with adidas on unveiling the Parquet Pride collection which honors significant moments in Celtics history and the iconic Parquet Floor," said Celtics Team President Rich Gotham. "Incorporating our franchise's storied tradition into our alternate home uniform provides a contemporary new look our players and fans will enjoy, while embracing the history that makes the Celtics brand unique."
In addition to the new Pride jersey and shorts, adidas will be releasing a Parquet Pride merchandise collection which will include t-shirts, hats, and other team gear honoring the Parquet Floor and commemorating the six historic moments. The team will debut the new Pride uniform on November 28 against the Chicago Bulls and don the uniform an additional five times throughout the 2014-15 season.