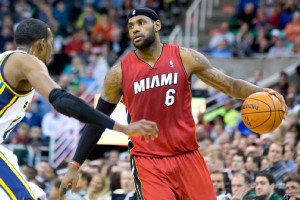 Time to whale on that panic button, Miami.
Just kidding.
Miami Heat fans have nothing to worry about. Yet. LeBron James is a still a member of the Heat. For now.
According to ESPN.com's Brian Windhorst (h/t Eye On Basketball), chances are LeBron will opt out of his current contract with the Heat and become an unrestricted free agent, thus making himself fair game.
"That is why his most likely path is to opt out of his contract after the draft so that he will maximize his flexibility while putting teams on the clock," Windhorst writes.
This is weird to me. Does opting out give him the most flexibility now? And in what way? Where else will he wind up? If he's serious about having options, waiting until 2015 when even more teams will have cap space without having to jump through salary-dumping hoops makes the most sense.
Perhaps this means he's preparing to stay in Miami long term. Or, as Windhorst said, perhaps this is a trust issue thing:
After finding a championship formula in Miami, which led to four consecutive Finals appearances, not to mention a beautiful and warm-weather city to call home, James is still undecided on whether to stay. The Heat have hoped that James would be so pleased with these past four years that this phase would have been just a formality.

That is just not the case — but it is not catastrophic either. The Heat have built plenty of trust and capital with James and have established a track record of stability and success that is almost unmatched in the league. The ability to follow through on promises made is rare in the NBA, and the Heat, for the most part, have kept them. Miami also has an unmistakable advantage not of its own doing: It plays in the Eastern Conference.
Windhorst also notes that owner Micky Arison has created a "window of doubt" now because of his decision to curb spending this past year, a la amnestying Mike Miller. Even so, this is still weird. It's just very, very weird.
Opting out is dumb unless James plans on re-signing. There is nowhere else for him to go. The Chicago Bulls can create cap space, but good luck selling him on playing with Derrick Rose, who has barely played over the last three years. The Houston Rockets may be intriguing thanks to Dwight Howard and James Harden, but they have to jump through rings of fire to get the necessary room.
The Los Angeles Lakers are just out of it. From the moment Kobe Bryant signed his extension, they were done. James isn't signing with the Lakers to help drum up Bryant's ring count while making less than him. It's not going to happen.
There's always the Cleveland Cavaliers, I suppose. But if you're LeBron, aren't you better off monitoring their situation from afar for at least another year? They've yet to prove they can take a step in the right direction without you. Why go back now?
In the event LeBron does opt out, bet on him re-signing with the Heat. Don't buy into the opt-out hype just yet, though. There's still time for him to make the right, option-driven decision and agree to play in Miami for another year before exploring free agency.
Dan Favale is a firm believer in the three-pointer as well as the notion that defense doesn't always win championships. His musings can be found at Bleacherreport.com in addition to TheHoopDoctors.com.