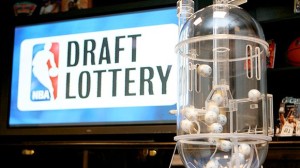 Many teams that supposedly tanked all last season are hoping for a miracle in landing one of the top picks in the talent laden 2014 NBA Draft.
A magical offseason filled with rebuilding awaits teams like Milwaukee, Philadelphia, and Orlando, who have the most ping pong balls, and in turn the best shot at landing top targets like Andrew Wiggins, Jabari Parker, or Joel Embiid.
Based on final 2013-2014 regular season records, here are every team's odds with the best chance of landing the #1 pick in Tuesday's 2014 NBA Draft Lottery…………………..
Milwaukee – 25%
Philadelphia – 19.9%
Orlando – 15.6%
Utah – 10.4%
Boston – 10.3 %
LA Lakers – 6.3%
Sacramento – 4.3%
Detroit – 2.8%
Cleveland – 1.7%
New Orleans – 1.1%
Denver – 0.8%
Orlando – 0.7%
Minnesota – 0.6%
Phoenix – 0.5%
Allen Moll has been a lifelong NBA and NCAA College Basketball fan who watches and studies games religiously, and coaches youth basketball in his native Lehigh Valley region of Pennsylvania. Allen has also provided content to Bleacherreport.com, Upperdeckblog.com, Cleveland.com, CSN Philly.com, Buckets Magazine, in addition to being a tenured NBA and NCAA columnist for TheHoopDoctors.com.