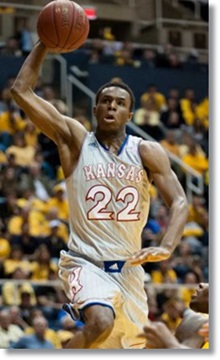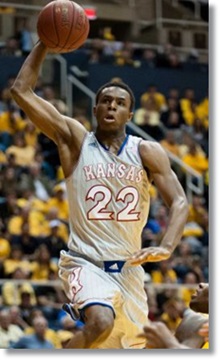 This is supposed to be the deepest draft since 2003, when Lebron James, Carmelo Anthony, and Dwyane Wade burst onto the NBA scene and become eventual superstars.
Upwards of 10-12 teams have been suspected of tanking for the services of potential impact players like freshmen Andrew Wiggins, Jabari Parker, and Julius Randle.
Rightfully so, considering the immense amount of talent when it comes to 1st Round talent in this year's draft.  Besides the talented freshmen, there's also some experienced college players like Marcus Smart, Doug McDermott, Adrien Payne, and Kyle Anderson that could fill an immediate need for a number of teams in need.
These picks are based solely on best player available without taking into consideration as to team needs yet.
These are only my choices and not the consensus picks of all of The Hoop Doctors writers, with that said here is my 2013 Mock Draft:Version 3.0.
Draft Order
College Team
Player
Position
Physical

1.

Mil


 Kansas
Andrew Wiggins

 SF
6'8   200lbs   Freshman

After many had criticized Wiggins for being too passive over the early part of the season, he has begun to show why he has the biggest upside of any prospect in this year's draft.  Quickest first step and most athleticism of a player in years as some predict he could be the next Tracy McGrady that plays defense.

2.

Phi


Duke
Jabari Parker

 SF/PF
6'8   235lbs   Freshman

Losing in the 1st Round of the NCAA Tourney probably won't hurt his draft stock as Parker is arguably the most ready prospect in this year's draft to come in and put up numbers right away.  May not be as athletic or have as big of an upside as Wiggins but the Carmelo Anthony clone is a nice fallback option at #2.

3.

Orl


Australia
Dante Exum

 PG/SG
6'6   190lbs   Intl

Some scouts have suggested that despite playing overseas, Exum could one day be the best player to come out of this draft.  His outstanding size and quickness at the point guard position has seen him compared to a young Anfernee Hardaway or Michael Carter-Williams with a better jump shot.

4.

Utah

Kansas

Joel Embiid

 C
7'0   250lbs   Freshman

Embiid remains the best big man prospect in the draft but concerns over a back injury definitely may hurt his stock as many don't want a repeat of Greg Oden a few years ago.  With that being said, he eerily resembles HOF center Hakeem Olajuwon in the post.

5.

LAL


Kentucky

Julius Randle

 PF
6'9   250lbs   Freshman

Despite Kentucky's growing pains this season, Randle remains a bright spot as one of only 4 players to average a double-double in the NCAA this season.  He's a bull inside the painted area and projects as a prolific low post power player at the next level with above average handles and 3 point ability.  Think a more powerful Jamal Mashburn.

6.

Bos


 OK State
Marcus Smart

 PG
6'4   220lbs   Sophomore

Smart has had an up and down sophomore season but could be one of the sleepers in this year's draft as he is an elite defender and born leader.  His well built frame is tailor made for the next level and has some sneaky athleticism that is better than originally thought.  Smart could come in and be an impact player from Day 1.

7.

Sac


 Indiana
Noah Vonleh

 PF
6'10   240lbs   Freshman

One of the most intriguing young prospects in this year's class, Vonleh had a stellar freshman campaign despite Indiana having a down year.  Prototypical size for the PF position, Vonleh has a motor that doesn't quit, great rebounding instincts, and developing offensive set.

8.

Det


Creighton

Doug McDermott

 SF
6'7   230lbs   Senior

The comparisons to Larry Bird may be a stretch but "McBuckets" is a legitimate Top 5 all time NCAA scorer and moves extremely well wint and without the ball.  He's an offensive force that an innate knack for scoring the rock.  Unlike some high scoring college players before him(ie, Jimmer Fredette), McDermott has the size and staying power to be a very good player in the NBA.

9.

Cle



Syracuse
Jerami Grant

 SF/PF
6'8   215lbs   Sophomore

The nephew of former Chicago Bulls star Horace Grant has battled injuries but is arguably Syracuse's most athletic player.  Another year in college could make him a POY candidate but the developing forward is already getting Lottery buzz for his rebounding, finishing ability, defense, and length.

10.

Phi


Arizona
Aaron Gordon

 SF/PF
6'8   220lbs Freshman

Viewed as Blake Griffin Lite, Gordon has excelled as a defensive demon after Arizona forward Brandon Ashley went down for the season.  His intensity and desire to win is infectious.  He's a physical freak that is still getting better but finishes better than any player in the draft.

11.

Den


Duke
Rod Hood

 SF
6'8   215lbs   Sophomore

Somewhat in the shadows of Jabari Parker, the former Miss State transfer is one of Coach K's favorite all time players after just one season.  He should be a lock to go in the Lottery for his stat-stuffing abilities and elite 3 point prowess from the SF position.

12.

Orl


Michigan St

Gary Harris

 SG
6'4   210lbs   Sophomore

The tough as nails guard has battled injures in his 2 seasons with the Spartans but is one of the nation's top SG's despite being slightly undersized.  The former HS football standout is an unbelievable athlete, above average defender, and capable scorer for one of the nation's top teams.

13.

Min


Louisville
Montrezl Harrell

 PF
6'8   240lbs   Sophomore

In just two seasons under Rick Pitiino, Harrell has developed into one of the most sought after forwards in the college ranks because of some freakish athleticism, defensive prowess, and rebounding ability.  Many see him as the 2nd coming of Kenneth Faried.

14.

Pho


Syracuse
Tyler Ennis

 PG
6'2   180lbs   Freshman

One of the nation's top freshmen, Ennis has taken over for MCW and hit the ground running, as the maestro of one of the nation's top teams.  He's a born leader that rarely turns over the basketball with an underrated scoring stroke.  With tons of experience on the International stage, Ennis appears much more mature than a college freshman.

15.

Bos



UCLA
Kyle Anderson

 PG/SF
6'9   230lbs   Sophomore

Easily the college game's quintessential "match-up nightmare", Anderson is an under the rim type player that amazingly can play any position from PG to PF with the Bruins.  His 6'9 frame is perfect for the next level and despite a perceived lack of athleticism, "Slo-Mo" could be a walking triple-double in the NBA, reminding many of Lamar Odom.

16.

Chi


Kentucky

James Young

 SG/SF
6'7   215lbs   Freshman

Another one of Kentucky's star freshmen, Young is an elite offensive force that excels from behind the arc.  He projects well at the next level as a sharpshooting SF with above average ball-handling skills.  Another year in college would do wonders but left-handed marksmen are a commodity in the Association.

17.

Pho


 Michigan St
Adrien Payne

 PF
6'10   245lbs   Senior

Minus the injuries this season, Payne would probably be a lock for the Lottery as he has tremendous size, athleticism, and range for the PF position.  Finally healthy, he has game takeover ability, as evidence of his 41 point outburst in the NCAA Tourney.

18.

Atl



Baylor
Isaiah Austin

 PF/C
7'2   220lbs   Sophomore

Possessing incredible size and length, Austin had a solid sophomore season at Baylor, leading them to another NCAA Tourney birth.  He still is rather thin but rebounds and blocks shots at an above average rate in addition to having offensive range outside the 3 point arc.

19.

Chi


NC State

TJ Warren

 SF
6'8   225lbs   Sophomore

One of the nation's most improved players, Warren has emerged as an elite scorer that quite simply drops buckets at an alarming rate.  He helped lead an undermanned NC State squad back to the NCAA Tourney, scoring 30 and 40 points in game on multiple occasions.

20.

Tor



Croatia
Dario Saric

 SF/PF
6'10   225lbs   Intl

Many have touted Saric as the "Next Dirk" because of his ability to score, push the ball, and play within the painted area.  He could be a game changer at the next level but concerns remain about a lack of foot speed and ability to defend quicker players.  Potential diamond in the rough?

21.

OKC



UConn
Shabazz Napier

 PG
6'1   190lbs   Senior

Easily one of the nation's top PG's, Napier is the unquestioned leader of the Huskies and boasts winning an NCAA Title on his resume alongside Kemba Walker 2 seasons ago.  Although small in stature, Napier is a stat stuffer, providing timely assists, clutch scoring, above average rebounding, and tough defense.

22.

Mem


 UNC
James Michael-McAdoo

 SF/PF
6'8   230lbs   Junior

After 3 seasons at UNC, it may finally be time for McAdoo, a former highly touted HS player, to move on to the NBA.  He is a unique physical specimen that rebounds well and scores within the painted area but may be a tweaner at the next level.

23.

Utah


Kentucky

Willie Cauley-Stein

C
7'0   230lbs   Sophomore

Once thought of as a bonafide Lottery pick, the 7 foot athletic shot-blocker has failed to develop much of an offensive game in his two seasons at Kentucky.  He has game-changing shot-blocking ability and an immense amount of athleticism but not star potential at the next level.

24.

Cha



Michigan
Nik Stauskas

 SG
6'5   190lbs   Sophomore

In just his 2nd season at Michigan, Stauskas has emerged as an elite perimeter threat, leading the Wolverines to the NCAA Championship game last season.  An unconscious 3 point shooter, Stauskas has improved ball-handling skill and can score off the bounce and spot up situations.

25.

Hou


Florida
Patric Young

 PF/C
6'9   250lbs   Senior

Possessing the physique of an NFL defensive end, few players are more physical inside the painted area than Young.  He brings experience, physicality, and rebounding but is average at best offensively.  Going deep in the Tournament may boost his stock to late Lottery.

26.

LAC



Wichita St
Cleanthony Early

 SF
6'8   230lbs   Senior

Because of playing in a smaller conference, Early is often overlooked, but is an National Wooden Award candidate.  At 6'8, he is a match-up nightmare at the 3, that brings scoring, rebounding, and defense in helping the Shockers finish a perfect 34-0 regular season.

27.

Mia



Louisville
Russ Smith

 PG/SG
6'0   175lbs   Senior

One of the nation's most exciting to watch players, Smith scores with ease and is impossible to guard in the open floor.  Measured favorably at an even 6 foot, size is an obvious concern at the next level.  May be tailor made for a 6th man role in the NBA.

28.

OKC



UCLA
Zach Lavine

 PG/SG
6'5   180lbs   Freshman

Although only a freshman, LaVine has already drawn comparisons to OKC Thunder PG Russell Westbrook for an amazing amount of athleticism from the PG position.  Overshadowed a bit by teammate Kyle Anderson, LaVine could be one of the nation's top players if he returns next season.

29.

Pho



D-League
(UNC)
PJ Hairston

 SG/SF
6'4   230lbs  Junior

Exiled from UNC, Hairston has found a home in the NBA D-League.  He has torched opposing defenses, dropping 40 points in a game with the Texas Legends, opening eyes of NBA scouts that could envision him as a starting 2 guard with impressive size and perimeter skills.

30.

SA


Kentucky
Aaron Harrison

SG
6'5   190lbs   Freshman

A tad disappointing as a freshman, and one half of Kentucky's highly touted Harrison twins, SG Aaron averaged nearly 14 ppg and showed outstanding size and an elite 3 point range on his jump-shot.  Staying another season could see him become a POY candidate but Kentucky is known for churning out NBA prospects.
Allen Moll has been a lifelong NBA and NCAA College Basketball fan who watches and studies games religiously, and coaches youth basketball in his native Lehigh Valley region of Pennsylvania. Allen has also provided content to Bleacherreport.com, Upperdeckblog.com, Cleveland.com, CSN Philly.com, Buckets Magazine, in addition to being a tenured NBA and NCAA columnist for TheHoopDoctors.com.