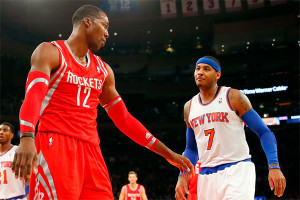 Whoa.
All we can say to this is, "Whoa."
Amid all this Phil Jackson and James Dolan business, some of us have forgotten about Carmelo Anthony's impending free agency. Sort of.
It's been tabled, really. Anthony's future cannot be dealt with until July, so there's no use focusing on it now. More pressing things, such as Jackson and the New York Knicks' playoff pursuit, demand attention.
But just as it always does, attention has shifted back to Anthony, and this time, the Houston Rockets.
According to the New York Post's Marc Berman, the Rockets are expected to make a play for Anthony this summer:
Could Carmelo Anthony rocket off to Houston?

According to a league source, the Rockets will make a bid for Anthony this summer, even though they probably won't have cap space and would have to orchestrate a creative sign-and-trade. The source said Houston asked the Knicks about Anthony before February's trade deadline.

The Knicks have held discussions with the Rockets about power forward Omer Asik. Even though Rockets president Daryl Morey is the pioneer of advanced statistics and Anthony has never fared well in some efficiency categories, Morey's old-school instincts believe he could form a terrific Big 3 with Dwight Howard and James Harden. Rockets management also believes Anthony has made advancements in the grit department the past two seasons.
Rockets general manager Daryl Morey sure knows how to drum up drama. The man is a genius.
But can he poach Anthony from New York?
Probably not.
While I'm not entirely convinced Anthony could succeed alongside the ball-dominating James Harden, there are other issues at hand, the most noteworthy of which is Houston's lack of cap space.
The Rockets could have as much as $63.2 million on their books leading into next season, destroying any chance they have of signing Anthony outright. For them to even have a shot at landing 'Melo, they would need to dump the contracts of Jeremy Lin and Omer Asik first.
Salary dumps of that proportion are beyond unlikely. Asik's and Lin's cap hits are fall just under $8.4 million, but they're earning around $15 million, courtesy of the backloaded contracts they signed in 2012. Finding teams to simply absorb those deals is difficult, if not impossible.
Even if Morey was able to pawn them off on another team, that still leaves Houston with roughly $46.5 million or so on the books. Another player would have to be dumped as well to offer Anthony a max deal.
Chandler Parsons wouldn't be able to receive an extension, either. The Rockets would simply have to exercise their team option on him worth under $1 million, which would make him an unrestricted free agent in 2015.
If the Rockets are truly serious about landing Anthony, it has to happen via trade. And it's unlikely the Knicks agree to one. Not only is it difficult to work out because of either team's potential luxury-tax situation, but the Rockets' best bargaining chips are Asik, Lin and Parsons, the latter of whom they're unlikely to deal.
And there's no point in the Knicks taking Asik or Lin back in return. Though they would be on expiring contracts, it's not as if the Knicks are shedding any long-term salary. The only way it's worthwhile for them to take one or both back is if they're paired with first-round draft picks and Parsons.
So yes, it remains unlikely that Anthony pulls a Dwight Howard and winds up in Houston next season. It would take too much maneuvering on the Rockets' behalf and if there's anything we know about the Knicks–even the Jackson-managed Knicks—it's that they're all in on Carmelo.
Dan Favale is a firm believer in the three-pointer as well as the notion that defense doesn't always win championships. His musings can be found at Bleacherreport.com in addition to TheHoopDoctors.com.