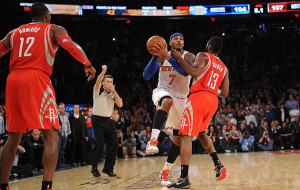 The Carmelo Anthony sweepstakes have taken an interesting turn. According to the New York Post, the Houston Rockets could be in play. Now, that's interesting. You could argue that Houston sounds more attractive then Chicago. Either way, there will be some offensive sacrifices that will have to be made wherever he goes. If he goes.
The other thing to consider is whether or not Phil Jackson's arrival has any impact on him at all.
According to a league source, the Rockets will make a bid for Anthony this summer, even though they probably won't have cap space and would have to orchestrate a creative sign-and-trade. The source said Houston asked the Knicks about Anthony before February's trade deadline.