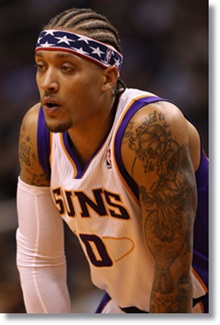 For the longest time, former Lottery pick Darko Milicic has been considered the most disastrous #2 overall selection in NBA Draft history, or at least in the modern era.
But after the still only 24 year old Michael Beasley, the #2 pick in 2008, was released this past week, could "B-Easy" be creeping up on the distinction of being worse the the 7 foot Serbian that once was drafted higher than future NBA stars like Carmelo Anthony, Chris Bosh, and Dwyane Wade back in 2003?
It wasn't that long ago, the '07-'8 season to be exact, that the one time standout at Kansas State had one of the best statistical seasons(26.2 ppg and 12.4 reb) for a freshman player ever, and even up until draft day was heavily in the running for top overall pick in the 2008 NBA Draft with Derrick Rose.
There's no denying that Beasley can play when motivated.  He once scored 42 points in an NBA game, put up 22 points and 15 boards in a playoff game, and averaged an impressive 19.2 points, 5.6 rebounds, and shot .366% from behind the arc just 3 years ago, coincidentally which was the only season that he averaged more than 30 minutes per game.
But it was his off the court issues, being waived by 3 teams over 5 seasons, most recently because his arrest for marijuana possession this past August, that led to the Suns buying out the disgruntled star for $7 million last week that have finally put his NBA career in jeopardy.  Or has it?
Just one week after being waived/bought out/released by Phoenix, a number of teams have shown some interest in the high risk/high reward forward, especially since he would come on the cheap.
Leading the pack is rumored to be the World Champion Miami Heat and Los Angeles Lakers, along with a number of rebuilding teams like Milwaukee and Philadelphia, which have a ton of money under the cap to spend.
According to NBC Sports and Yahoo, several current Heat players have gone on record stating:
The two-time defending NBA champion Miami Heat are considering the possibility of bringing back troubled free-agent forward Michael Beasley.  Several of the Heat's key veteran players are supportive of the signing of Beasley, and he has a strong interest in returning to the franchise responsible for taking him with the second overall pick in the 2008 NBA draft.
Per ESPN, the retooling Lakers are also an intriguing option with the roster still in flux and looking for able bodied scorers with the timetable still up in the air as to when Kobe Bryant will return to the court after a lengthy Achilles tear rehab.  With Metta World Peace amnestied, they have no definitive SF.  Right now and aging Pau Gasol and streaky Nick Young may be the team's best offensive options heading into next season.
If the Lakers could sign Beasley to the veteran's minimum of about $1 million, they still would have the financial flexibility to keep salary cap space open for next season, following Kobe's last year of his current contract.
"B-Easy" has been given so many chances, but in a league where players are constantly given 2, 3, 4, and even 5 chances because they can put the ball in the basket, I'm confident Beasley will be given another shot, maybe even on a return trip to Miami…
Michael Beasley's Top Career Plays:
Allen Moll has been a lifelong NBA and NCAA College Basketball fan who watches and studies games religiously, and coaches youth basketball in his native Lehigh Valley region of Pennsylvania. Allen has also provided content to Bleacherreport.com, Upperdeckblog.com, Cleveland.com, CSN Philly.com, Buckets Magazine, in addition to being a tenured NBA and NCAA columnist for TheHoopDoctors.com.