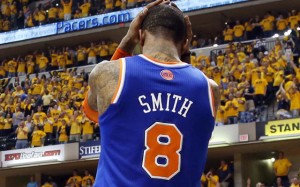 J.R. Smith has been in the league for a while now, but this is by far the most noise he's mad during any offseason. First was the carry over from his alleged partying during the playoffs. Then there was his new contract, surprise knee surgery, championship guarantees, and hair color change.
We can now add suspension to the growing list. Smith was just suspended by the NBA for the first 5 games of next season for violating the league substance abuse policy.
The Knicks J.R. Smith was suspended five games by the NBA for violating the league and union's anti-drug program, the NBA announced on Friday.

The punishment suggests that Smith did not test positive for a performance-enhancing drug but instead tested positive for marijuana. According to the league's drug policy a player is suspended five games after a third positive test for marijuana A second offense results in a $25,000 fine while first positive test calls for the player to enter a program.
H/T: NY Daily News