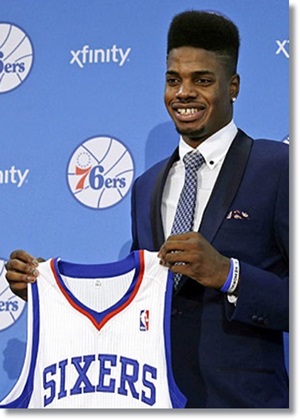 For the second consecutive offseason, the Philadelphia 76ers are once again holding a press conference to unveil a franchise impacting big man with bad knees.
Last year, it was euphoria when Philadelphia somehow came away smiling after dominating big man Andrew Bynum fell into their laps as part of the original Dwight Howard deal with the Lakers.
But instead of the franchise returning to glory and challenging the Heat for Eastern Conference supremacy around Bynum, what followed was a series of odd Bynum-esque occurrences like re-injuring his balky knees while bowling, appearances overseas salsa dancing, and continual excuses as to why he never played a single minute as a Sixer.
Fast forward to this Summer, and Philly has decided to totally reconstruct the roster, trading their lone All Star talent Jrue Holiday on draft day to the Pelicans for the rights to former Kentucky standout Nerlens Noel, the projected #1 overall pick prior to suffering an ACL injury last season.
This time around, they are totally rebuilding around former NCAA POY Evan Turner, blue collar glue guy Thaddeus Young, and the newly drafted Michael Carter-Williams(Syracuse) and Nerlens Noel.
While Carter-Williams initially shined in the Orlando Summer League, it is Noel that has the highest ceiling among the current roster.  The former #1 ranked HS player improved drastically in his lone season at Kentucky, becoming arguably the college ranks' most feared rim protector, before suffering an unfortunate season ending ACL injury halfway through the season.
Noel reportedly won't be ready for meaningful floortime until at least December, meaning the Sixers will be bad, really bad.  So bad that they could challenge for the league's worst record and in turn putting them clearly in tank mode for Andrew Wiggins, the unquestioned jewel of the 2014 NBA Draft.
This time around, the Noel presser was a little more quiet, featuring only Noel and new Sixers GM Sam Hinkie, answering questions in front of the assembled media, rather than the public spectacle one year ago.
In his answers, Noel stated he's ahead of schedule in the rehab and seemed genuinely determined and motivated by the 5 teams that passed over him in last month's draft.  Hinkie spoke in glowing terms when it came to Noel, calling him an "ultimate weapon" on defense, even comparing him to 4 time Defensive POY Dikembe Mutombo.  Time will tell…….
Sixers Nerlens Noel Press Conference:
Nerlens Noel Ultimate Highlights:
Allen Moll has been a lifelong NBA and NCAA College Basketball fan who watches and studies games religiously, and coaches youth basketball in his native Lehigh Valley region of Pennsylvania. Allen has also provided content to Bleacherreport.com, Upperdeckblog.com, Cleveland.com, CSN Philly.com, Buckets Magazine, in addition to being a tenured NBA and NCAA columnist for TheHoopDoctors.com.