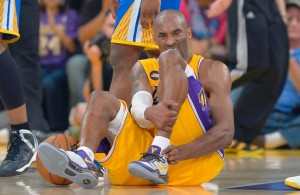 After a first round playoff sweep at the hands of the San Antonio Spurs and Dwight Howard taking his talents to Houston, the Los Angeles Lakers are a team in transition and turmoil. The franchise centerpiece future Hall of Fame shooting guard Kobe Bryant faces the toughest challenge of his epic career, returning from a torn Achilles. How will Bryant fair in his return? Which other NBA stars suffered a torn Achilles over the last twenty years, and how will Bryant look in the 2013-2014 season?
Other Notable Players: Courtney Alexander, Stanley Roberts, Jonas Jerebko, and Darrell Arthur
10. Maurice Taylor
Type of Tear: Ruptured Right Achilles Tendon
Age Injured:   24
Age Retired:   30
Pre-Injury:     14.3 ppg       5.3 rpg        248 games
Post-Injury:    8.1 ppg        3.9 rpg        286 games     5 seasons
+/-            -6.2           -1.4 rpg
Taylor was a young, talented forward on the rise when the Houston Rockets signed him to a six-year, $48 million contract, hoping he would round out a promising lineup, which included Hakeem Olajuwon, Steve Francis, and Cuttino Mobley. Instead, 4 years into his professional career, Taylor ruptured his right Achilles tendon while playing a pickup game in the off-season. He missed the entire 2001-2002 season, and, in the long-term, the injury severely shortened his career. For 2-3 years after the injury, Taylor was able to remain effective. He kept his field goal percentage close to what it was pre-injury, even though his minutes per game dropped immediately by 8 minutes per game (from 28.6 mpg to 20.6 mpg). But after a few seasons, Taylor was no longer productive.
9. Laphonso Ellis
Type of Tear:   Ruptured Right Achilles Tendon
Age Injured:   26
Age Retired:   32
Pre-Injury:     15.4 ppg       7.2 rpg         267 games
Post Injury:    9.2 ppg        5.2 rpg         357 games     6 seasons
+/-            -6.2 ppg       -2.0 rpg
When Ellis was healthy, he was one of the most exciting dunkers and high-flyers of the 1990s. Led by Dikembe Mutombo and Mahmoud Abdul-Rauf, Ellis was part of the 8th seeded Nuggets team that upset the 1st place Seattle SuperSonics in the first round of the 1994 playoffs. Ellis was steadily improving his all around game each season, but he injured his Achilles on April 4th 1997, in a 122-113 loss to the Phoenix Suns. Ellis could never regain his great leaping ability or his all-star potential, but he continued a decent NBA career, playing 357 games and almost scoring 10 points per game in the latter half of his career. His scoring dropped from 21.9 ppg before the injury to barely scoring double-digits for 2 of his 6 remaining years. His attempts stayed about the same, which explains his production, but his shooting went down across the board, although his three-point shot was the least affected. But, Ellis never got anywhere close to his pre-injury career-high of 36.7% 3PT.
Ellis Highlights:
8. Christian Laettner
Type of Tear: Ruptured Achilles Tendon
Age Injured:   29
Age Retired:   35
Pre-Injury:     16.6 ppg    7.9 rpg    462 games
Post Injury:    8.4 ppg     5.2 rpg    406 games    7 seasons
+/-            -8.2 ppg    -2.7 rpg
One-time All-Star and solid all-around player, Laettner played alongside legends of the game like Michael Jordan, Kevin Garnett, Dwayne Wade, and Shaquille O'Neal. Laettner also learned the pro game by playing on the 1992 "Dream Team," barely beating out Shaq for the only collegiate spot on the roster. In the NBA, Laettner was a reliable pieces player, who would provide what was needed whether it be a key rebound, steal, block, or bucket. In the 1998 off-season, Laettner ruptured his Achilles during a pickup game at Duke University. Even though his injury occurred in September, Laettner was ready to play by the end of the regular season. After missing most of the 1998-1999 season, he came back to play the last 16 games. But, after the Achilles injury, Laettner only scored over 10 points per game for a season one more time, something he did easily beforehand. He played almost as many games after the injury as he had before, but he was not nearly as productive. However, Laettner had such a high basketball I.Q. that he was able to remain effective. He picked his spots offensively, so while his scoring dropped, his shooting percentages stayed more-or-less consistent.
7. Mehmet Okur
Type of Tear: Torn Left Achilles Tendon
Age Injured:   31
Retired:       32
Pre-Injury:    13.8 ppg    7.1 rpg   604 games
Post Injury:    6.4 ppg    3.7 rpg   30 games   2 seasons
+/-            -7.4 ppg    -3.4 rpg
Okur was a stretch four who played mainly for the Utah Jazz and the Detroit Pistons. He shot 37.5% from beyond the arc for his career. Okur ruptured his Achilles' tendon during the 2010 playoffs while playing for the Jazz. He played another 2 seasons, until he was waived by the Portland Trailblazers, and retired. Like most players, Okur was a shell of himself after returning from an Achilles injury. Okur was severely hindered, experiencing drops across the board (except assists), and even drastic dips in shooting percentage.
6. Gerald Wilkins
Type of Tear:  Ruptured Achilles Tendon
Age Injured:   31
Retired:       35
Pre-Injury:     14.3 ppg   1.1 spg  717 games
Post Injury:    7.7 ppg    0.6 spg   183 games   4 seasons
+/-            -6.6 ppg    -0.5 spg
Gerald Wilkins, brother of Dominique Wilkins, was a solid NBA player in his own right. He was a starting shooting guard for the New York Knicks and Cleveland Cavaliers. His teams made 4 Conference Semi-Finals, only to be cut down by either Thomas' Pistons or Jordan's Bulls, but when Wilkins was on the Knicks, they took the Chicago Bulls to 7 games in 1992 playoffs. He was a good slasher, shooter, and defender. In the 1986-1987 season, Wilkins posted a career-high 19.1 ppg, but after his injury he never scored more than 10.6 ppg. Just after turning 31 in October of 1994, Wilkins ruptured his Achilles, forcing him to miss the entire 1994-1995 season. When he returned, Wilkins was never close to the same player, and never came close to having the same athleticism and aggressiveness, but more than that, his field goal shooting dropped to a career-low. Yet, he was able to remain a great free throw shooter. A troubling fact for Lakers fans is that when Wilkins injured his Achilles, he said, "all I felt is that there was nothing there," which is eerily similar to Kobe Bryant said this year after injuring his Achilles. After his injury, Bryant said "I can't walk…there's nothing there."
5. Elton Brand
Type of Tear:  Ruptured Left Achilles Tendon
Age Injured:   28
Retired:       34 (still playing)
Pre-Injury:     20.3 ppg    10.2 rpg    2.1 bpg    606 games
Post Injury:    12 ppg      7 rpg      1.3 bpg    326 games   6 seasons
+/-              -8.3 ppg    -3.2 rpg    -0.8 bpg
Before his injury, Brand was one of the few 20-10 guys in the NBA. The season before his injury, Brand posted a solid: 20.5 ppg, 9.3 rpg, and shot 53.3% from the field. He was reliable and healthy, rarely missing games due to injury. His best season was 2005-2006, where Brand dropped 24.7 ppg to go with 10.0 rpg and a blocked 2.5 shot per game. After his injury, Brand never regained his All-Star status, but he did average 17.6 ppg, 8.0 rpg, and 1.9 bpg in a season, a record performance for NBA players with serious Achilles injuries. Actually, Brand popped his Achilles earlier that season in a game against the Toronto Raptors. In the off-season during a Clippers practice in August of 2007 against recent Lakers acquisition Chris Kaman, Brand ruptured his Achilles. But, Brand's still been decent, just short of being a double-double guy for 6 years, which is a great sign for players who suffer from Achilles tendon injuries. The only part of his game that has truly shown great decline is his shot blocking. On the subject of Kobe Bryant, Elton Brand told ESPN Dallas' Tim MacMahon that he thinks Kobe will "be fine…if there's anybody that could come close [to his pre-injury self], he can," a sentiment that LeBron James shared on twitter.
4. Chauncey Billups
Type of Tear: Torn Left Achilles
Age Injured:  35
Retired:      36 (still playing)
Pre-Injury:   15.5 ppg   5.5 apg   1002 games
Post-Injury:   8.4 ppg   2.2 apg   22 games  1 season
+/-           -7.1 ppg   -3.3 apg
Billups made a name for himself with the Detroit Pistons and won the 2004 NBA Championship under Head Coach Larry Brown, Billups taking home the Finals MVP. With the Pistons, Billups earned the nickname "Mr. Big Shot" for his late-game heroics in the regular season and the playoffs. In 2011 Billups signed with the Los Angeles Clippers, but he was injured in an overtime game against the Orlando Magic in February 2012. After missing most of the 2012-2013 season, Billups returned for 22 games, during which time his field goal shooting and overall production slumped. Recently, Billups signed with his former club the Detroit Pistons, but the move signals to many that Billups best days as a player are over, and perhaps he'll soon make the move into coaching.
3. Isiah Thomas
Type of Tear: Complete Tear of Right Achilles
Age Injured:   32
Retired:       32
Pre-Injury:     19.2 ppg    9.3 apg    1.9 spg   979 games
Post Injury:    N/A
+/-             N/A
Hall of Fame point guard and clutch shot maker Isiah Thomas played 13 seasons, but his days as an NBA player were cut short due to a career-ending Achilles injury. He led a Detroit Pistons team—featuring Joe Dumars, Mark Aguirre, and Dennis Rodman—to back-to-back NBA championships, defeating Earvin "Magic" Johnson's Lakers and Clyde Drexler's Trailblazers in the Finals. 12-time All-Star Thomas won the 1990 Finals MVP in the series against the Blazers. After suffering a series of injuries his final season—cut left hand, calf injury, strained arch, broken rib, and a hyperextended knee—Thomas suffered an Achilles injury in April of 1994 during a blowout loss to the Orlando Magic, 132-104. And, that was it. No comeback. Thomas would never play another game in the NBA.
2. Dominique Wilkins
Type of Tear: Ruptured Achilles Tendon
Age Injured:   32
Retired:       39
Pre-Injury:    26.2 ppg   6.9 rpg   1.4 spg   762 games
Post Injury:   25.2 ppg   6.8 rpg   0.8 spg    312 games   5 seasons
+/-            -1.0 ppg   -0.1 rpg   -0.6 spg
Wilkins, nicknamed "The Human Highlight Film," was one of the great high-flyers, drivers, and most spectacular dunkers in NBA history. Wilkins is also the only player in NBA history to make a successful comeback from a serious Achilles injury. Will Kobe be the next one? Only time will tell. As for Wilkins, he still holds an NBA record for most free throws made in a game without a miss (23/23). Before his injury, Wilkins posted a career-high 30.3 ppg in 1985-1986. In a game against the 76ers on January 28th 1992, Wilkins suffered an Achilles injury, about 2 weeks after his birthday. Remarkably, after returning from his injury, Wilkins managed to score 29.9 ppg, even more than he scored the season before his injury (28.1 ppg). Dominique Wilkins is the anomaly, not the norm, when it comes to recovering from a serious Achilles injury. He played another 7 seasons professionally, going back and forth between the NBA and Europe during that time (1993-1999). His defense took a big hit after the injury, and so did his field goal percentage, which dropped from the high 40's to the low 40's. In his comeback, Wilkins did something Kobe Bryant cannot do. Wilkins reinvented himself as a three-point shooter, from almost exclusively being viewed as a high-fly act. Wilkins went from shooting 105 three-pointers in 1988-1989, to shooting 316 of them (1992-1993). 2 seasons after his injury, Wilkins shot a career-high 38.8% from beyond the arc. Bryant, already known as a great three-point shooter, will not be able to surprise defenders by pulling up from the outside, as defenders will expect him to do just that.
Wilkins Highlights:
1. Kobe Bryant
Type of Tear: Third Degree Tear Left Tendon (Complete Rupture)
Age Injured:   34
Pre-Injury:    25.4 ppg    5.3 rpg    4.8 apg   1.5 spg   1239 games
Post Injury:   N/A
Bryant has made NBA history throughout his legendary career. He had a blazing four game streak of 50 points of more (2006-2007), the only second player to do so (the other: Wilt Chamberlain). That same season, he made history by scoring 81 points in one game, the second highest scoring output in NBA history, only second to Wilt's 100 points. Bryant made history again this season, in a dubious manner, becoming arguably the greatest shooting guard ever to suffer an Achilles injury. Bryant has always been a fantastic athlete and a fast—almost superhuman—healer but his age (35 in August) and mileage 45,390, not including playoffs or Olympic play, and the severity of his injury would be against him. For his career, Bryant's played far more minutes than anyone else on this list, and more than Gerald Wilkins and Mehmet Okur combined.
Next season, in typical L.A. fashion, Bryant's every move will be scrutinized, his every grimace examined in slow motion and freeze-frame.
Bryant's Career Highlights:
Kobe Bryant's Return
According to Dr. Richard Johnston of Atlanta, Georgia, a rupture of the Achilles, the "largest and strongest tendon in the body" is "severe and disabling" and typically a result of "overused or unused muscles." The injury makes it hard to push off the foot or even walk. Dr. Rohit Garg, a presenter at the American Academy of Orthopaedic Surgeons Annual Meeting, maintains that "[players] can have a successful surgical repair with the result being that you return to the NBA, but you do not return to your pre-injury levels."
What can we expect from Kobe in 2013-2014? If he's lucky enough to recover like Dominique, we'll see only small declines in certain areas of his game, but if the other players with similar injuries are any indication, Bryant should lose about 6-8 minutes per game in playing time, which will be one of several factors affecting his production. His bounce, athleticism, and ability to drive may be hindered, so his FTA, points in the paint, and maybe even play making may be negatively affected. On average, players experience about a drop of about 6.3 ppg. If that happened to Kobe, his scoring would dip down to about 20 ppg. And, like defense wasn't already a problem with all the wear and tear on Kobe's legs, his athleticism on defense will, most likely, never be close to what it was.
Although a handful of NBA players have attempted to come back from Achilles injuries, the results have been mixed.
Over the last twenty years (1992-2012), 18 NBA players have suffered from a ruptured Achilles tendon. 11 returned for only one season. 8 (of those) returned for more than one season. 7 never played any game in the NBA. Kobe Bryant wants to return for the first game of next season, but will he ever be close to what he was? Recently, Bryant has maintained that he wants to win 2 more championships, but maybe that's too lofty of a goal for someone who recently uttered the phrase: "maybe father time has defeated me."