August 15, 2012 – Allen Moll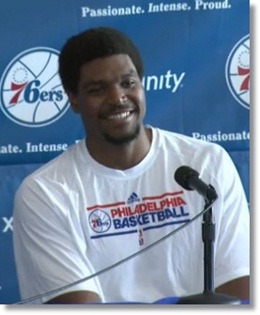 The opinions on the Philadelphia 76ers somehow snagging Andrew Bynum in the Dwight Howard trade to Los Angeles, has ranged anywhere from unbelievably positive and stunning to not making a difference.
While the latter minority may think Philly now has a logjam at center with Bynum, Spencer Hawes, and Kwame Brown on board for next season, in my opinion, Andrew seems poised to be the superstar that the Sixers have been missing since A.I. was unceremoniously traded to the Nuggets back in 2006.
I give Phiily management credit for pulling the trigger on blowing up a roster that came within one game of the Eastern Conference Finals last season, sending Olympian Andre Iguodala to Denver, amnestying Elton Brand, and not re-signing last year's leading scorer Lou Williams. Truth be told, they were headed nowhere as previously constructed.
Well respected coach Doug Collins now has his hands full molding the roster filled with perimeter shooters(Richardson, Nick Young, and Wright), promising youngsters(Turner, Holiday, Allen, Moultrie, and Thad Young), and veteran big men(Hawes and Brown) around All Star big man Andrew Bynum.
If first impressions mean anything, Philly already loves Bynum, as thousands showed up, as early as 830 AM for the scheduled 1215 PM introductory press conference at the National Constitution Center in the heart of Philly to show their love for Bynum and J-Rich.
It appeared as if Bynum and Richardson are both feeling and appreciating the lovefest as both continually looked to eachother and shook their heads in disbelief during the entire procedings, both bearing a smile from ear-to-ear. The presser was also attended by Sixers ownership, GM Rod Thorn, and head coach Doug Collins, fresh off doing a bang-up job, doing on-air commentary for Team USA's run to the Gold Medal in London.
In a key moment during the press conference, Bynum says the right thing when he states,"Right now, I'm leaning towards making Philadelphia my home" after being asked about possibly re-signing after the season. He was pleasantly surprised to hear a roaring ovation from the massive crowd in attendance.
Note to Bynum: Philly fans are as passionate as any fanbase in the country. They can love you and hate you in the same breath, especially if you decide to continue shooting threes during games. Here's to good health and good luck bringing the Sixers back to the elite status in the Eastern Conference.
Check out Bynum and Richardson being introduced to Philadelphia:
Source: CSNPhilly.com
Allen Moll has been a lifelong NBA and NCAA College Basketball fan who watches and studies games religiously, and coaches youth basketball in his native Lehigh Valley region of Pennsylvania. Allen has also provided content to Bleacherreport.com, Upperdeckblog.com, Cleveland.com, CSN Philly.com, Buckets Magazine, in addition to being a tenured NBA and NCAA columnist for TheHoopDoctors.com.