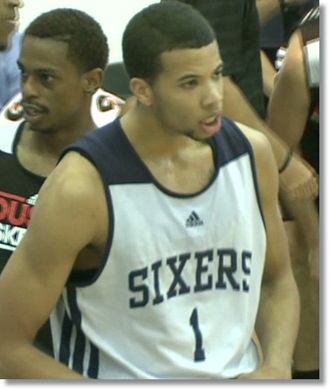 Many basketball experts wondered out loud prior to last week's NBA Draft just what the Philadelphia 76ers would do, considering they swung and missed on the Andrew Bynum signing, were still without a head coach, and had no hope of securing a difference making player with the #11 pick.
But outside of the Cleveland Cavaliers surprisingly selecting talented UNLV forward Anthony Bennett at #1, the Sixers shook up draft night by not only taking Syracuse PG Michael Carter-Williams at #11 but trading their lone All Star player Drew Holiday to the New Orleans Pelicans for the rights to shot-blocking big man Nerlens Noel from the University of Kentucky.
While Noel has potential to one day be a game-changer from the defensive end of the floor, Philly fans will have to wait to see the dominating center in action until his torn ACL is fully healed around Christmas.
But NBA fans got to see the 76ers point guard of the future, the 6'6 Carter-Williams, in his first live game action over the weekend, as the Sixers took on the Houston Rockets in the opening game of the Orlando Summer League.
While Summer League action tends to be a tad boring as most rosters feature a bevy of unsigned free agents from the college ranks and overseas looking to get signed by an NBA club, many were looking forward to seeing how Carter-Williams' game translates to the pro level.
After a slow start, MCW took over early in the 2nd half, finishing with a game high 26 points, 8 assists, 7 rebounds, while making 10-11 from the free throw line.  He showed off his excellent court vision, dropping pinpoint dimes, and scored on numerous drives to the hoop, sometimes in highlight reel, and one fashion.
On the downside, Carter-Williams did commit an unacceptable 9 turnovers, something which plagued him at times at Syracuse, but not totally unexpected considering their wasn't much talent surrounding him on the Summer League roster.
Former University of Minnesota forward Rodney Williams added 12 points and 3 blocks as the Sixers lost 88-80.  University of Kentucky standout Terrence Jones tallied 24 points and 12 rebounds in a winning effort for the Rockets.
Even though it's only one game, does it look like the 76ers have their point guard of the future?
MCW Shines In Summer League Debut:
Allen Moll has been a lifelong NBA and NCAA College Basketball fan who watches and studies games religiously, and coaches youth basketball in his native Lehigh Valley region of Pennsylvania. Allen has also provided content to Bleacherreport.com, Upperdeckblog.com, Cleveland.com, CSN Philly.com, Buckets Magazine, in addition to being a tenured NBA and NCAA columnist for TheHoopDoctors.com.