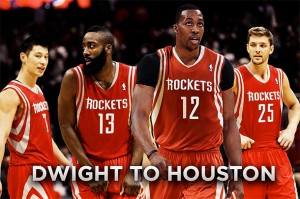 At long last, the Dwight Howard drama is over. Howard has decided to join the Houston Rockets. He will be painted as "not able to handle the spotlight" and a bunch of other not-so-flattering labels, but the fact of the matter is Houston is the best basketball situation for him.
Howard won't thrive in Mike D'Antoni's system and with Kobe saying he'll be able to play three more years, Dwight's best bet is to bolt.
ESPN sources claim Dwight decided to leave because of D'Antoni's system, Steve Nash's age and not wanting to be Kobe's sidekick. Hard to argue with those, although he'll certain feel the wrath of LakerNation.
After 20 months of twists and turns in the Dwight Howard saga a person with knowledge of his decision told USA TODAY Sports he will join the Houston Rockets.

The person spoke on the condition of anonymity because his decision had not yet been announced.
H/T: USA Today