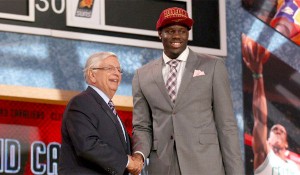 For the first time in a very long time, we had no clue who was going to be drafted first overall. Typically, it's pretty well known for weeks and even months ahead of time. But with this week crop, it was anybody's guess.
The Cleveland front office shook things up and took Anthony Bennett first. That was only the beginning of a wild evening, which was David Stern's final NBA draft.
hit 36-of-96, or 37.5 percent, from three-point range last season). He's also a capable finisher in transition and a quality rebounder. With his ball skills at his size, Bennett can create mismatches for defenses.
The Cavaliers selected Anthony Bennett with the No. 1 pick in the NBA draft on Thursday. Here's a look at Bennett and how he fits with Cleveland:
Vitals: 6-7, 239 pounds

Bio: UNLV | Freshman | Power Forward 

2012-13 Statistics: 15.8 points, 8 rebounds, 1.2 blocks, 52.6 percent shooting in 34 games.

Strengths: Bennett showed versatility in playing out of position as a center for part of his freshman season at UNLV. At his best, though, Bennett views himself as a stretch power forward because of his ability as a ball handler and perimeter shooter (he

Weaknesses: Is he a small forward or power forward? Which position will he be able to guard in the NBA? Bennett is undersized as a power forward and could struggle to keep up with small forwards. A better post-up game would help round out his offensive game. Bennett missed pre-draft workouts and will be unavailable for summer league after having rotator cuff surgery on his left shoulder in early May, but he's expected to be ready for next season. As for his asthma, Bennett downplayed concerns: "It's not a big deal. It's not like I'm the first one in the NBA to have it. It's just something I've got to take care of."
H/T: SI.com