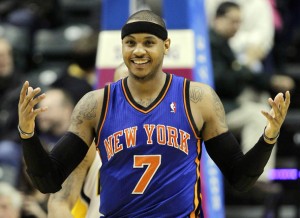 New York Knicks mega star Carmelo Anthony doesn't expect to have surgery on his injured shoulder.
Per Mike Mazzeo and Jared Zwerling of ESPNNewYork.com, 'Melo doesn't believe he'll need to go under the knife to repair a partially torn labrum in his left shoulder:
New York Knicks forward Carmelo Anthony told reporters that he does not believe he will require surgery on his partially torn left labrum.

"I don't think so," Anthony replied when asked about his shoulder at a ribbon-cutting event for two refurbished courts he provided in Brooklyn.

"My shoulder feels much better," Anthony added. "For the past four-to-five weeks, I've let it rest and heal up. It's not 100 percent yet, but it's much better."
The news comes as a slight relief to Knicks fans everywhere. With Tyson Chandler and Amar'e Stoudemire as banged up as they are/tend to get, New York needs Anthony to contend, or even to just make the playoffs.
Unfortunately, Knicks general manager Glen Grunwald admitted that there are no guarantees when it comes to 'Melo's shoulder.
Knicks GM Glen Grunwald admitted that there are no "guarantees" that Carmelo won't need left shoulder surgery.

— Frank Isola (@FisolaNYDN) June 28, 2013
That only sounds ominous because it is. Just because 'Melo isn't going under the knife doesn't mean things can't go awry. This could become an issue down the road.
Grunwald on Anthony's shoulder: "We're hopeful that it will be a non-issue going forward, but there's no guarantees on the injury things."

— Nate Taylor (@ByNateTaylor) June 28, 2013
So the Knicks are taking a risk in order to avoid another risk. Surgeries are never a joke, no matter how minor they seem. Foregoing any procedures doesn't mean he's out of the woods, though. And why? Because torn labrums also aren't a laughing matter either. We saw one that plagued Dwight Howard with the Los Angeles Lakers for the better part of the 2012-13 season. That could happen to Anthony.
Or maybe not.
All the Knicks can do at this point is hope that they're most valuable player is able to remain healthy. Without him, there isn't much to play for; without him, there is no team.
Stoudemire is a shell of the six-time All-Star he used to be and Chandler finished the season on a disappointing note. Though New York will publicly expect them to get healthy and return to form, there's no telling if they will. Especially Stoudemire. I'd hazard he'll never be the same, forever operating on a minutes cap and just one fall away from wrecking his knees yet again.
By some miracle, even if Stoudemire was able to remain healthy, the Knicks still need 'Melo. That holds true even if Chandler remains healthy too. And Raymond Felton. And Iman Shumpert. You get the point.
New York would have us believe its a superteam. But it's not. Chandler is fresh off an All-Star campaign, but he's far too limited on the offensive end to be considered a true star. Stoudemire will never be himself again, not like he was during the 2010-11 regular season. J.R. Smith (should he return) is barely fit to be a No. 2 option. And Shumpert may be a star eventually, just not immediately.
For the Knicks, there is only Anthony. He is their only the superstar, the one they have currently put the invested the fate of the franchise in.
The player with a torn, who the Knicks are hoping can still shoulder the burden they've bestowed him.
Dan Favale is a firm believer in the three-pointer as well as the notion that defense doesn't always win championships. His musings can be found at Bleacherreport.com in addition to TheHoopDoctors.com. Follow @danfavale on Twitter for his latest posts and all things NBA.