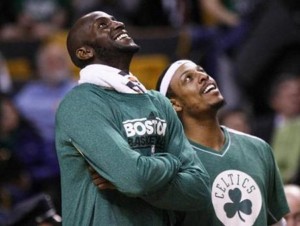 It's probably safe to say the glory days of the Boston Celtics are over. First Doc Rivers jumped ship to Los Angeles, and not Kevin Garnett waived his no-trade clause and agreed to a trade to Brooklyn. His buddy Paul Pierce will join him as well.
Seeing how KG willingly took steps towards leaving Boston, all of a sudden, Ray Allen doesn't appear to be public enemy number one.
With a starting lineup of Deron Williams, Joe Johnson, Paul Pierce, Kevin Garnett and Brook Lopez, the Nets have a nice lineup. On paper.
The deal cannot be made official until next month.
Kevin Garnett and Paul Pierce, two almost certain Hall of Famers, are heading to Brooklyn in a blockbuster trade that could tip the balance of power in the Eastern Conference.

The Nets and the Boston Celtics agreed to the trade late Thursday night in the midst of the N.B.A. draft, which was largely overshadowed by the negotiations. The deal, which cannot be consummated until July 10 for salary-cap purposes, was confirmed by two people involved in the talks.

The teams completed the deal when Garnett agreed to waive his no-trade clause. In exchange, the Nets agreed to fully guarantee the $12 million he is owed in 2014-15.

The Celtics will receive Gerald Wallace, Kris Humphries, Reggie Evans and Keith Bogans, as well as three first-round draft picks, in 2014, 2016 and 2018. The Nets will obtain Garnett, Pierce and Jason Terry. Bogans, a free agent, will be sent to Boston in a sign-and-trade deal.
H/T: NY Times