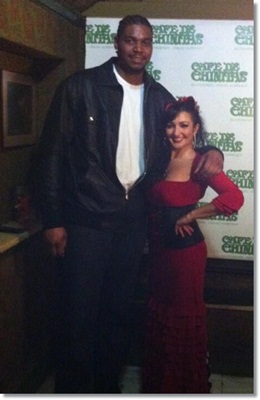 For all intents and purposes, I think it's safe to say that the 2012-13 NBA season was a huge disappointment for prized big men Dwight Howard and Andrew Bynum after that blockbuster trade last summer that sent Howard to the Lakers and Bynum to Philadelphia.
While Howard struggled to regain his form after back surgery, and his Kobe-less Lakers were swept out of the postseason early, Bynum failed to play a single minute for the 76ers this season.
Perhaps it was the unfortunate bowling injury, his overseas experimental surgery, or his  lack of focus on rehabbing that made the once instant love affair between Philly and Bynum turn sour.
But even as management has since forced former head coach Doug Collins upstairs after another disastrous sub .500 season, the Sixers are now faced with the daunting $100 million dollar question this off-season, what to do with Bynum?
He obviously doesn't take the whole degenerative knee thing very seriously as he was previously seen around Philly playing pool and shooting hoops at Dave and Busters as well as dressing up as a pimp for Halloween while his teammates were on the hardwood.
But it appears as if his glass knees have made a miraculous recovery as he was recently spotted in Spain, of course with some honeys, practicing his Salsa moves. What's up with the Ferrari jacket?
Andrew Bynum Dancing In Spain:
Allen Moll has been a lifelong NBA and NCAA College Basketball fan who watches and studies games religiously, and coaches youth basketball in his native Lehigh Valley region of Pennsylvania. Allen has also provided content to Bleacherreport.com, Upperdeckblog.com, Cleveland.com, CSN Philly.com, Buckets Magazine, in addition to being a tenured NBA and NCAA columnist for TheHoopDoctors.com.