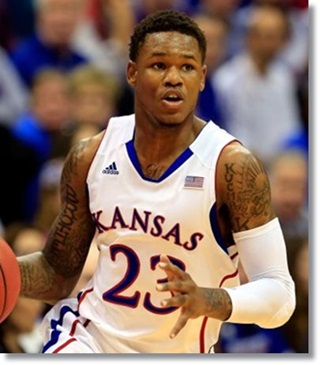 Going back to the latter parts of the collegiate season and into March Madness, University of Kansas shooting guard Ben McLemore was regarded as the best shooting guard prospect for the 2013 NBA Draft.
After showing some incredible athleticism and at times, lights out perimeter shooting during his redshirt freshman season in Lawrence, McLemore was drawing rave reviews, was regularly compared to future NBA Hall of Famer Ray Allen, and even was potentially projected as the #1 overall pick in Thursday's Draft.
But even after averaging a team high 15.9 ppg, 5.2 reb, shooting .420 3PT%, earning consensus All American status, and being a finalist for the Naismith Player of the Year Award, McLemore as the top pick was still a longshot, considering that a shooting guard hasn't been taken #1 in over 40 years.
According to multiple sources, McLemore has flat-out bombed in interviews and was a non-factor in workouts.  He was particularly brutal in Phoenix, who has the 5th pick pick on Thursday, to the point that noted ESPN Draft guru Chad Ford went on record calling out McLemore for his lack of preparation leading up to Draft day……
"McLemore remains in the top 5, but I'm starting to have my doubts. I love the talent. But his lack of preparation for the draft is hurting him. Multiple sources told me that his workout in Phoenix was not impressive; he wasn't in shape, and he struggled to keep up in the workout. I heard similar things in Orlando. McLemore is in a tug-of-war right now between adviser Rodney Blackstock and his agency Rivals. It's kept McLemore out of the gym and for the most part, out of workouts. How much will all of this affect the draft stock? I'm told teams are worried.
McLemore and Kentucky's Nerlens Noel are arguably the two players in this year's draft that have superstar potential down the road but his lack of a killer instinct has already begun to hurt his stock.
Character issues have begun to come up as rumors persist that his AAU coach once took money from an agent and he has been labeled as a kid that let's others have too much say in how to handle things, which is disappointing.
It wouldn't be the first time that a team has "dug up some dirt" on a prospect in hopes that the prospect falls a bit lower in the draft, so they could draft him for themselves but there are far too many teams reporting the same issues.
One Mock has McLemore falling as low as #7 to Sacramento even though has has a textbook release on his jumper and compares favorably with the all time 3 point king.
Check out some Ben McLemore highlights….
Ben McLemore '12-'13 Season Highlights:
Ben McLemore Kansas Dunk Montage:
Allen Moll has been a lifelong NBA and NCAA College Basketball fan who watches and studies games religiously, and coaches youth basketball in his native Lehigh Valley region of Pennsylvania. Allen has also provided content to Bleacherreport.com, Upperdeckblog.com, Cleveland.com, CSN Philly.com, Buckets Magazine, in addition to being a tenured NBA and NCAA columnist for TheHoopDoctors.com.