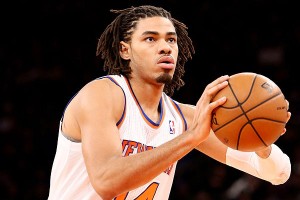 As if the New York Knicks weren't in a bad enough position this offseason.
Already faced with the prospect of losing J.R. Smith in free agency, the Knicks reportedly are going to have some heavy competition for rookie sensation Chris Copeland.
But a team that could make a hard push J.R. Smith is the Suns, I've heard.

— Al Iannazzone (@Al_Iannazzone) June 25, 2013
According to Marc Berman of the New York Post, the New Orleans pelicans are prepared to make a heavy push for the versatile scorer:
According to an NBA source, the newly named New Orleans Pelicans are planning to make a strong bid for the 6-foot-9 sniper as they are well under the salary cap and can make an offer that will blow Knicks owner James Dolan out of the water.

The Knicks can match any Copeland offer since he is a restricted free agent, but only up to $3.1 million — their mini mid-level exception. Since the Pelicans are under the cap, they can easily top that number.
Berman also writes that the Indiana Pacers are expected to make a play for Optimus Cope as well.
First off, good for Copeland. His NBA debut didn't come until he was nearing 30 and he managed to carve out a successful rookie campaign, averaging 20.3 points per 36 minutes. With that type of scoring prowess, it's no wonder other teams are going to be interested in him.
New Orleans clearly has a need at the small forward slot, and as someone who can man the 4 as well, he makes for a great option. With the Pelicans, he may even start.
Indiana, admittedly, may be a better fit. Copeland struggled defensively during his rookie crusade and it took a gritty approach from Mike Woodson to help him improve. And he did improve. Under Frank Vogel, he would improve even more.
I do wonder if the Pacers could find him the kind of minutes he deserves, though. With Danny Granger on his way back, there won't be much of a need for help at small forward, unless they decide to move him. Copeland can be inserted into the lineup as a stretch 4, but again, the plan is for the team to re-sign David West, a truer power forward.
Which brings us back to the Pelicans, who can offer Copeland approximately $3.2 million annually and know the Knicks can't match it. For New York, that blows.
The Knicks aren't poised to make a splash this offseason. Barring something unforeseen—which many in New York are praying for at this point—their focus is on retaining the players they have. Smith is their top priority, but Copeland is a close second.
New York played its best basketball when it ran small last season. Copeland allows them to continue that dynamic. He's truly invaluable off the bench when you consider how the Knicks will need to tinker with the lineup if Amar'e Stoudemire is healthy.
Carmelo Anthony is best suited at the 4, so Woodson's job is to stagger Tyson Chandler and Stoudemire's minutes. This allows each of them to remain at the 5 and thus be more effective next to Anthony.
Copeland's skill set doesn't dictate he play one spot. He can play small forward and jack up threes all night, or he can come in and man the stretch 4 spot with 'Melo on the bench. At 6'9″, he could even play center when the Knicks elect to run really, really small. Believe it or not, it has happened.
Courtesy of $76.4 million worth of salary already being on the books, the Knicks may lose that option. And be forced to watch as the Hornets or Pacers or someone else gets to reap the benefits of a player they so desperately need.
Dan Favale is a firm believer in the three-pointer as well as the notion that defense doesn't always win championships. His musings can be found at Bleacherreport.com in addition to TheHoopDoctors.com. Follow @danfavale on Twitter for his latest posts and all things NBA.