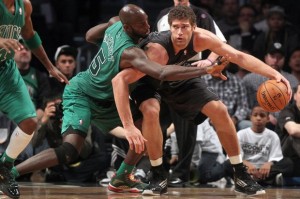 Kevin Garnett can't become a member the Los Angeles Clippers, but maybe he can join the Brooklyn Nets.
According to Stefan Bondy of the New York Daily News, Nets general manager Billy King made a call to the Boston Celtics to inquire about Garnett's desire to play in Brooklyn:
Multiple sources told the Daily News that the Nets GM inquired about Kevin Garnett's desire to join Deron Williams in Brooklyn, but King didn't get an answer while uncertainty surrounds the Celtics.

Garnett, 37, has a no-trade clause in his contract, which he vowed not to waive last season. But circumstances changed dramatically in Boston following a first-round playoff loss to the Knicks, with GM Danny Ainge committing to rebuilding and Doc Rivers bolting to the Clippers.
Brooklyn isn't what you would call an overwhelming title contender, but if the Celtics are indeed headed for a rebuild—and it seems they are—Garnett would have more to play for with Nets.
What remains to be seen is how the Nets would be able to make this happen. We know Danny Ainge wants first-round draft picks. It's common knowledge and intel that isn't going to change. We also know the Nets have a first rounder they can trade and, most likely, would relinquish if it meant giving up Garnett.
But what about the rest of the details?
The Nets have more than $89.5 million on their books leading into next season. Unlike the Milwaukee Bucks or Cleveland Cavaliers, who have been the teams most heavily linked to Paul Pierce, Brooklyn can't simply send a draft pick Boston's way and assume the remaining two years on Garnett's deal just like that. They have to send something back in return. Which is where this gets complicated.
Most likely, the Nets would offer the Celtics a first rounder, the expiring contract of Kris Humphries and MarShon Brooks. That's what they offered the Celtics back in February for Paul Pierce, but to no avail.
Times have changed, though. The package in itself isn't especially impressive, whether it be for Pierce or Garnett. At the same time, this isn't about Ainge matching Garnett's value. Rather, it's about beginning a rebuild by saving money and stockpiling draft picks.
In this particular scenario, the first rounder the Nets can offer is key. Humphries' expiring contract comes off the books one year before Garnett's and Brooks is a cheap, young offensive option who could be a valuable spark plug off the bench, but the draft pick is king.
Really, it comes down to how badly the Celtics want these draft picks. Were Garnett believed to be a part of their future, or even their immediate pursuits, this deal gets laughed at and passed over. Truthfully, it still could. But if Garnett expresses any desire to play in Brooklyn, expect some sort of discussions to be held and scenarios visited.
Is this a deal destined to go down? Absolutely not. It is, however, another option for the Celtics to consider. And at this point, already down Doc Rivers and currently drowning in Pierce and Garnett rumors, Boston has to consider anything and everything.
Dan Favale is a firm believer in the three-pointer as well as the notion that defense doesn't always win championships. His musings can be found at Bleacherreport.com in addition to TheHoopDoctors.com. Follow @danfavale on Twitter for his latest posts and all things NBA.