January 13, 2012 – Kevin Burke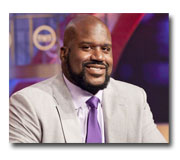 Perhaps I was in the minority but when it was announced that Shaq was joining the TNT crew, I had my reservations. Sure he's been great at giving witty soundbites throughout his career but I wasn't sure how that would translate to "Inside the NBA." Not to mention the fact that the chemistry between Chuck, Kenny and Ernie was already untouchable.
The season isn't even a month old and I already feel as if they can do without Shaq on the set. I'm not saying he can't add value to TNT's coverage of the NBA, but I'm not sure he's needed in the setting in which he's being utilized. I will say, however, that he has provided a few interesting moments and one occurred last night. The show opened with the guys reliving Barkley's performance on Saturday Night Live last week where he impersonated Shaq. The guys joked about it for a while before eventually going to commercial. Then this happened…
It's probably not a huge deal, but I'll just say that it's interesting….
If you're looking for your everyday, predictable basketball talk, then go somewhere else, because Kevin Burke of The Kevin Burke Project brings provocative, thought provoking content about basketball as only he can. Kevin also hosts The Hoop Doctors weekly podcast show, which you can subscribe to for free on iTunes. Follow Kevin on Twitter and Facebook