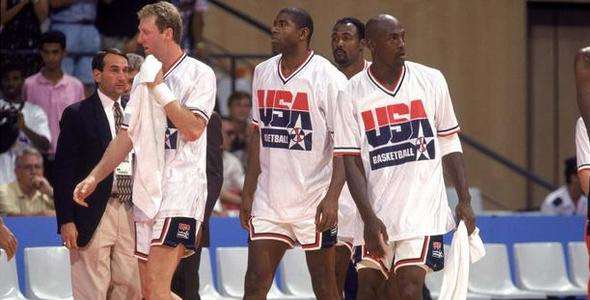 September 23, 2011 – R.S. De France
When one thinks of the greatest professional sports teams ever assembled in all of sports, which squads come to mind?
The 1927 New York Yankees, 1960's Boston Celtics (11 Championships), 1972 Miami Dolphins (14-0), 1975-1976 Cincinnati Reds, 1980's Los Angeles Lakers, 1980's Edmonton Oilers, 1980's Boston Celtics, 1984 Detroit Tigers, 1985 Chicago Bears, 1986 New York Mets, 1989 San Francisco 49ers, 1996 Chicago Bulls (72-10), 1997-2002 Detroit Red Wings, the Yankees of the late 90's and early 2000's, and perhaps even the 2007 New England Patriots (16-0).
Of course, you could add to this list, but one team consistently left out of these discussions is maybe the greatest team of them all: the 1992 USA Basketball "Dream Team."
Top 10 Highlights:
This month marks the anniversary of the official selection of the "Dream Team," September 21st, 1991.
Great teams are famous for many reasons, among them their superstar power and, of course, margins of victory over their opponents. The 1992 "Dream Team" included all-time legends of the NBA; there are so many that you cannot get away with just mentioning one or two. We're talking about a team made up of the Michael Jordan, Magic Johnson, Larry Bird, Karl Malone, Scottie Pippen, David Robinson and Charles Barkley, just to name a few. According to the "Reading Eagle," Christian Laettner, the only collegiate player selected, was chosen over a young Shaquille O'Neal, a 15-time All-Star and 4-time NBA Champion, for the final spot on the roster.
Even without Shaq, the "Dream Team" players won a combined 23 NBA titles in their careers, with Jordan, Pippen, and Johnson accounting for 17.
In NBA history, the largest margin of victory came when the Cleveland Cavaliers beat the Miami Heat by 68 points, 148-80, in a regular season game in 1991. That is the same margin of victory the USA Dream Team had in its first game against Angola, 116-48. Overall, the '92 USA Olympic team had an average margin of victory of +43.75 points.
USA v Angola
As great as this team was, the "Dream Team" was also led by a legendary collection of coaches: Chuck Daly (back-to-back Championships), Lenny Wilkens (2nd all-time in wins), P.J. Carlesimo (3 Championships as an Assistant), and Mike Krzyzewski (4 Championships and 11 Finals Fours).
Over the course of the tournament, the 8-0 "Dream Team" never scored under 103 points in a game, and they never let an opponent score more than 85, which happened to be Croatia in the Gold Medal Game. Head Coach Chuck Daly did not call a single timeout.
Once, Daly said of the "Dream Team": "You will see a team of professionals in the Olympics again, but I don't think you'll see another team quite like this. This was a majestic team." And boy was he right, but the 1996 "Dream Team II" also contained several members of the 1992 squad (Malone, Pippen, Barkley, Hakeem Olajuwon, Clyde Drexler, David Robinson, and Shaquille O'Neal). More recently, the 2008 "Redeem Team" (Kobe Bryant, LeBron James, Dwayne Wade, Carmelo Anthony, Dwight Howard, and Jason Kidd) also won the gold medal in impressive fashion. Those teams were pretty awesome, and the closest we've seen to the original "Dream Team."
1992 "Dream Team" Roster
Michael Jordan, Scottie Pippen, Charles Barkley, Magic Johnson, Larry Bird, Patrick Ewing, Clyde Drexler, Christian Laettner, Karl Malone, John Stockton, David Robinson, Chris Mullin
And that is why this team was so amazing. Almost every single player is among the best of all-time. 10 of 12 are on the NBA's 50 Greatest Players List. I can remember watching this team when I was a kid, and their dominance helped me fall in love with basketball on a whole new level. Their games were like poetry.
On their march into history, the "Dream Team" was paced by Pippen's 5.9 apg, Jordan's 4.6 spg (still a USA Olympic record), Malone and Ewing's 5.3 rpg, and Barkley's 18.0 ppg (Jordan was 2nd with 14.9 ppg). Barkley also shot a blistering 71.1% from the field and 87.5% from three-point range. Oddly enough, Laettner actually led the team in free-throw percentage at 90% (18/20).
Although many of their individual Olympic records have been broken by other USA team members, the original "Dream Team" still holds a number of team records, including most total points, most points averaged, most blocks, most steals, most field goals made, best field goal percentage, and most assists.
Sources
usabasketball.com
basketball-reference.com
Rob S. De France is a College and University instructor of English Composition living in Los Angeles. He has a B.A. in English and an M.A. in Rhetoric, Composition, and Writing. De France has played, coached, and officiated competitive high school basketball in California for many years. Recently, De France, his wife, and another colleague started an internationally read magazine at Shwibly.com.