August 28, 2011 – The Hoop Doctors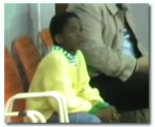 Before Kobe Bryant was known as 'The Black Mamba', 'The Closer', 'KB24', 'Lord of the Rings', or 'King Kobe' he was just 'Little Bean' the son of NBA and international basketball player Joe 'Jellybean' Bryant. Young Kobe was happy to follow his Dad all over North America and Europe to take in some professional hoops action.
In the following rare footage of Kobe as an 8 year old youngster in Italy, he's watching his Dad courtside warming up. Stay tuned until the 0:33 second mark of the video, its worth the wait:
Kobe Bryant a Sassoferrato from Luigi Garofoli on Vimeo.
[H/T Got 'Em Coach]