August 15, 2011 – Dane Carbaugh
In 1989-1990 Otis Smith was a 27-year-old guard who had bounced to his third team in just four NBA seasons, finally winding up in Orlando after the 1989 expansion draft. He would play just two more NBA seasons, both with the Magic, before calling it quits.
Smith totaled 13.5 PPG in 65 contests for the Magic in their inaugural season despite dealing with an injury. The Magic would finish a woeful 18-64 in their first season despite having notable NBA names like Reggie Theus, Scott Skiles and Nick Anderson. Smith would have one of the best games for a first-year Magic player on December 20th, 1989 when he scored 28 points against Michael Jordan and the Chicago Bulls in a game that saw MJ score 52 points despite an Orlando victory.
Otis Smith is now the General Manager of the Orlando Magic and his days are mostly taken up with figuring out how to keep Daryl Morey from stealing Dwight Howard away from him. In this card from Fleer Smith looks a bit like Kevin Durant, save for his P90X-style biceps, don't you think?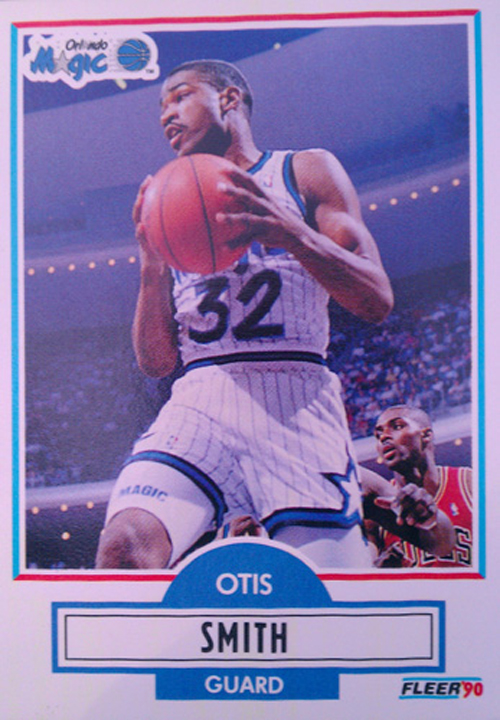 The newest edition to The Hoop Doctors writing staff, Dane Carbaugh is the editor and lead writer of the popular new basketball blog A Young Sabonis. Dane is a published research author and also writes for Dime Magazine and the ESPN TrueHoop Affiliate Portland Roundball Society. He can be found on Twitter at @DaneCarbaugh