August 10, 2011 – Allen Moll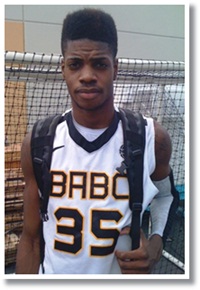 We see or hear of some pretty insane player comparisons every year as high school players move on to the college ranks. While most are just way out there, a few actually hit the mark.
Prior to last season we saw NC State's CJ Leslie touted as the next Kevin Garnett and this season it's Baylor commit Quincy Miller being compared to 2 time NBA scoring champ Kevin Durant.
Looking towards the future, one elite level big man heading into his junior season is already drawing comparisons to NBA Hall of Famer Bill Russell. I know, crazy isn't it, but after seeing Nerlens Noel play in person during an AAU game this Summer, I have to say that most expert comparisons to the 5 time NBA MVP may not be far off.
Noel, who plays for the Tilton School in New Hampshire during the Winter, currently is the #3 rated prospect in the 2013 Class, but is arguably the best defensive player we've seen coming through the high school ranks in some time. He takes up so much space in the paint with his imposing 7'6 wingspan and elite level athleticism that he literally can be considered a one man zone.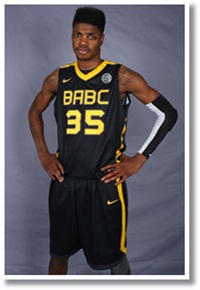 The 6'10 and lean 215lb junior has already proven to be able to take over a game on the defensive side of the ball by leading his BABC AAU team to a victory over some stiff competition in the finals of the Peach Jam. He plays on an uber talented Summer squad that also includes Jabari Parker and Julius Randle, who along with Nerlens, are all in the running for the #1 ranking in the 2013 Class.
But if you were to ask most scouts in attendance, most would take Noel over his super talented teammates because of his immense potential as an elite level shot-blocker and rebounder. During the Peach Jam, Noel notched a rare triple-double consisting of 12 points, 10 rebounds, and 11 blocks in the semis before another impressive 17 point, 10 board, and 6 block effort in the finals.
While Nerlens is a bit raw offensively, and bears a striking resembence to the Fresh Prince of Bel Air, he more than held his own defending Top 5 rated big men Andre Drummond and Isaiah Austin, who are a few years older than him in the Senior Class. In fact Drummond, whom many already compare to Amare Stoudemire, is arguably the best offensive player in the 2012 Class and is predicted to go within the first 5 picks in next year's NBA Draft.
Considering he has already blocked 15 shots in one game, Noel is hearing from a Who's Who of schools on the recruiting front but mentioned Kentucky, Florida, Syracuse, UConn and Providence among schools who have been following him around all Summer.
Is Nerlens Noel the next Bill Russell? You be the judge.
Check out Noel as a sophomore last season:
Here's Noel blocking everything in AAU action this Summer:
Allen Moll has been a lifelong NBA and NCAA College Basketball fan who watches and studies games religiously, and coaches youth basketball in his native Lehigh Valley region of Pennsylvania. Allen also provides content to Bleacherreport.com, Upperdeckblog.com, in addition to being a tenured NBA and NCAA columnist for TheHoopDoctors.com.